మారుతి ఇగ్నిస్వినియోగదారు సమీక్షలు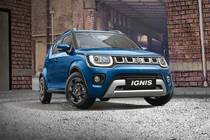 391 సమీక్షలు
Rs. 4.95 - 7.36 లక్షలు*
*ఎక్స్-షోరూమ్ ధర న్యూ ఢిల్లీ
మారుతి ఇగ్నిస్ looks వినియోగదారు సమీక్షలు
అన్ని (391)
Mileage (114)
Performance (56)
Looks (127)
Comfort (109)
Engine (86)
Interior (66)
Power (57)
మరిన్ని...
తాజా
ఉపయోగం
VERIFIED
CRITICAL
I had purchased the Zeta version and I love this car's features, looks, and performance. Easy to ride, well-featured interior, and beautiful looks of exterior. From the outside, it's compact but inside it's spacious and feels huge. The best car in this budget range. Don't hesitate to purchase.ఇంకా చదవండి

I have researched for 2 months before purchasing Ignis Sigma plus model and could say that my decision was good. The new model look is good and you just need to add few accessories to enhance its further. Overall happy with comfort, space, mileage.ఇంకా చదవండి

You will be amazed to see all new Ignis, with an updated design and loaded features. The blue color is amazing for the car. It looks very luxurious. Riding it for the last 6 months, and I feel I have made the best decision of buying the ZETA version of it.ఇంకా చదవండి

This is a very good car for those buyers who wants a Suv under 10 lakh. This car has high ground clearance, suspension, comfortable seats, fog light, and a beautiful sporty look. If you want more than this then you have to spend more than 10 lakh for a car which is not possible for every person.ఇంకా చదవండి

Pros Mileage Looks Safety Nexa service Cons Stiff suspension. Rear seat angle and no rear ac vent.

It is a wonderful car. I have zeta and the features at this price are amazing and it is a complete family car though it looks small three can sit in the back row easily and even the boot space is quite big. It is must buy kind of thing.ఇంకా చదవండి

I liked it more than other cars. Driving is very soft and easy, the gearbox is placed properly, the suspension is Ok, the front look is very smart. Too much spacious cabin than Swift. Mileage is also above 19.5 km upon Indian roads. I took experience other cars, but the driving of Ignis is very sporty and comfortable. Only need a back headrest...ఇంకా చదవండి

Recently I booked Ignis from Nexa, Mysore. The vehicle front and side looking are very nice. But back looking is not satisfied. This should be a small change because of looks like 1935 old car. Nexa showroom sales executive Smt. Brunda is explaining about this vehicle very nicely. She advised and recommended this vehicle for our family budget. She ...ఇంకా చదవండి

It has been 3 years since I got the Ignis Alpha Top Model Manual. It is a good city car with the best in class gearbox and clutch. But if you are looking for a vehicle which is comfortable for long road trips than this one is not for you. In Bombay roads, you can feel everything inside the cabin. and at the end of you will feel exhausted.ఇంకా చదవండి

Its safety rating 3 while swift achieve a safety rate of 2. The engine is good same as swift but it is better than swift only one complain backside look that's the reason it is not selling a high quantity.ఇంకా చదవండి

Very stylish and nice car features are very activity and comfort and small family and a nice car. This lower price and the very safety car is well stylish and looking very hot.ఇంకా చదవండి

IgnIs 2020 facelift looks good on the outer (front only), but inside there is no premium Nexa feel. Seems like it has the worst suspension in the market, especially in the rear seat. The new model seems lighter and less stable than the older BS4 versions. Looks like they have cut costs left right and center. Recommend not to cross 80kmph.ఇంకా చదవండి

Definitely a great and the best car for a small family. I get mileage of 22 kmpl which is super, big wheels and high ground clearance, allows me to drive it in rural areas without any tension of potholes, comfort and convenience are almost very good. Shock absorbance and body quality are 90 to 95% satisfactory. So if you are looking for a small but...ఇంకా చదవండి

Great car, highly affordable Ignis, value for money, looks compact but with excellent space inside, go for it.

In 3 years, drove for 40000KM and till now no issues faced. Most smooth car in the midbudget. Stylish in looks. Highly Recommended.

It is a nice looking car, the exterior looks are good and the interiors are quite nice.

Terrific power with a very silent cabin. Very fun to drive the car. We have a delta manual transmission, which gave us a very good mileage of 15 to 16 kmpl in city and 19 to 21 in the highway. The cabin is very roomy inside and is compact outside. Its look is very much impressive, especially the front and side view. I recommend it to buy,m ins...ఇంకా చదవండి

Proud Owner of Maruti Suzuki Ignis 1.2P Zeta:- Ignis's look might not be as appealing as compare to other cars in this segment, but let me share the exprience with this beauty. Ignis is made to perform as an all-rounder. You can feel the peppiness while driving dur to its low kerb weight, but it doesnt looses your confidance while driving on highwa...ఇంకా చదవండి

Descent looks with impressive fuel efficiency. Residual value might be a flaw and to summarize its a "simple city car"

As a proud owner of Maruti Ignis, I would like to share that I have never been more happy with Maruti until I owned Ignis. It all started with research and tallying budget and features of cars falling under the category. Of all the cars security were my priority and that's what I got in Ignis even in the base model I got two airbags and A...ఇంకా చదవండి

Maruti Ignis is an excellent car as I want engine capacity, ground clearance is very good, look wise it is compact and has all facilities. The drive is very smooth, air conditioner is very effective, the music system is very good, and all other features are very attractive. The space in the boot is more than sufficient, overall, this...ఇంకా చదవండి

Maruti Ignis is a very good car for city as well as for a little long-distance. Smooth steering, trendy and stylish look. Silent and smooth ride. Nice GPS and music system. Comfortable upholstery. Best family car. Enough ground clearance. Lights are amazing, very comfortable to drive in the night also. Auto ac function is marvelous. Overall it's th...ఇంకా చదవండి

Maruti Ignis is a very good car. I am writing this review after one year drove this car about 10k km. 1. Price should little lower 2. Resale value may much lower as comparison to new price. 3. Ground clearance is decent. 4. Look and space in the inside is decent. 5.milage is above 20kmpl on the highway. 6.overall good car because i...ఇంకా చదవండి

Ignis is one of most premium car in the hatchback segment. Spacious, good looks, nice build and power are the attracts of the car. The car has the best safety in its class. If you plan to buy santro or i10 better go for ignis with maruti trust. It provides best in class safety.Maintenance is low to moderate.Ignis delta 1.2 costs around 5.8 lakhs. A...ఇంకా చదవండి

I got my Maruti Ignis and it is in very good condition. It has super looks, good mileage, excellent efficiency. Overall, it is a good car and I will rate it 5 stars.

Very comfortable while driving. It gives minimum jerk due to its more ground clearance. It is a good looking car. I think more boot space in minimum price

Awesome car with good mileage and interior looks very good. I am very happy with this car.

Nice interior as well as outfit. Comfortable to drive it. More spacious for a small family. The very nice sporty look comes when you install sports kit.

Maruti Ignis is very comfortable in traffic and city roads, also the fuel-efficient is very good for this 1.2-litre engine with good speeds. The look of this car is very awesome and sure it's eye-catching. The cabin space is very well planned and good. The SUV feel will admire all who droves this car.ఇంకా చదవండి













Not Sure, Which car to buy?
Let us help you find the dream car
ఇగ్నిస్ ప్రత్యామ్నాయాలు యొక్క వినియోగదారుని సమీక్షలు
*ఎక్స్-షోరూమ్ న్యూ ఢిల్లీ లో ధర
వినియోగదారులు కూడా చూశారు

Are you Confused?
Ask anything & get answer లో {0}
జనాదరణ పొందిన car insurance companies