మారుతి ఆల్టో కెవినియోగదారు సమీక్షలు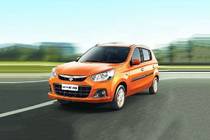 Rs. 3.40 లక్ష - 4.39 లక్ష*
ఈ కారు మోడల్ గడువు ముగిసింది
మారుతి ఆల్టో కె వినియోగదారు సమీక్షలు
అన్ని (514)
Mileage (212)
Performance (90)
Looks (114)
Comfort (156)
Engine (117)
Interior (62)
Power (109)
మరిన్ని...
తాజా
ఉపయోగం
VERIFIED
CRITICAL
Best performance in its segment but body shell quality is yet to be desired. 4-5 passengers with AC feels laggy, otherwise, due to its lightweight, the power to weight ratio is decently good. Mileage in city traffic is 13-14, but without AC it is 15-16, yes AC makes a lot of difference for low torque engines.ఇంకా చదవండి

Its a small segment car good for a new driver. Good comfort and suspension too. Fuel economy is good. Not so spacious but 4 people can accommodate easily. Will soon give more review once I go for a long drive.ఇంకా చదవండి

I bought this car in December 2016. I had driven it for about 38000 km. The mileage is also good. It is equipped with an amazing air conditioner system. The engine provides the best performance. I would like to rate it 5 stars. It is a worthy purchase. I thank them for this amazing model of Maruti A...ఇంకా చదవండి

An Amazing Car available with best in class features as compared to the other cars available from other brands in the same segment at an affordable price.

My Maruti Alto K10 Amt is the best car for low budget & better drive Maruti is great to work to develop this car also upgrade it much better full safety ABS, EBD, airbags full comfort to 5 seaters free of tension to heavy traffic amt is a good option.ఇంకా చదవండి

Maruti Alto K10 is the best car of a lower and middle-class family in this segment. Maruti has always been making the people's car.

Maruti Alto K10 is a very nice car with a powerful engine and great fuel economy. Low maintenance cost, it is the best package in this price segment and very high resale value.ఇంకా చదవండి

Good car for city ride, Very easy driving. Lowest maintenance. Performance is very good. Boot space is average. Best car in low budget as K10 comes with a powerful 1000 cc engine in low budget, but I feel it should have better performance.ఇంకా చదవండి

Maruti Alto K10 is an awesome car with a full feature pack at a very low price.

Maruti Alto K10 is the best & comfortable car. The maintenance cost is very low.

Nice & marvelous, good small beautiful that's alto K10, best car small car in India.

very nice car I have ever seen in my life, driving facility with smooth gear system makes it very cool so I think it very nice.

It's one of the good cars by Maruti at a lower price. It's a good performing car with AC for all kind of roads moreover it is a low maintenance car. ఇంకా చదవండి

Maruti Alto K10 a small car with power and a high quality engine capacity, fuel efficiency is very good according to engine power, the tire size is good which gives balancing and capturing on the roads. Maruti cars always give great comfort that is worth every single penny.ఇంకా చదవండి

The car body is very light. Its body is of poor quality. I have to buy a new car it's only 4 months all windows have sound and service is very poor they told me its by default sound in the window. Only car average is good it's giving 22 mileage otherwise all spare parts are third class quality.ఇంకా చదవండి

It is a very elegant model. I had attached some premier finishes. As it is simple and small, it is very simple and easy for drifting and reverse drifting. I love my car very much.ఇంకా చదవండి

Hi all, I would like to review my cute Alto k10. Though the leg space is less my car fits my height and fulfills the needs when required. I went long drive many times but never ever faced any issues, very easy to drive, easy to maneuver and the important thing is reliability. I Can trust my alto blindly because of its user-friendly settings in...ఇంకా చదవండి

Small and compact car. Av. 22 kmpl in the city for 5 passengers, it's actually good!! Little bit low leg room but due to the low price, it's ok.

I am having this car in white color and it has been 3 years but this car has never given me any problem plus its mileage is much awesome.

Best car in this range. No comparison. Easy to drive in the locality. Low maintenance. Easy to maintain for every person. The best car for a middle-class family. Very low space needed for parking. Old age person easily drives it. It's a mechanic easily available in every city, every village. So I think it's the best car.ఇంకా చదవండి

Maruti Alto K10 is my first and only car till date. In 2010 when we bought k10, it was the first time the car is coming in vibrant orange color. In this color my car was shining like a star, no doubt after 10 years also k10's shine is not over. As far as performance is concerned nearly 20 Kmpl of fuel economy & no major maintenance has bee...ఇంకా చదవండి

I have been using this car for the last 6 months and I am truly satisfied with K10 series engine performance. Have already done a very safe and comfortable drive for around 2500 KM in 4 days with 3 days stay at my home town. Based upon my 6 months experience below are the pros & cons for you .. Pros: Powerful engine and performance, No cabin so...ఇంకా చదవండి

Great mileage for Indians as they give importance to their money and the price is below Rs 5 lakhs which is quite affordable. The great finishes inside the car are quite good and the best part is that you can go long tour with your family with low cost of petrol.ఇంకా చదవండి

Good condition since 2006. Easy availability of spare parts. Good performance. Good driving comfortability but not for long drives.

Most fuel efficient car and very good for city driving, low on maintenance costs, high in performance.

Ultimate drive. Maruti Suzuki is the best car forever. Low maintenance, high mileage.

Very easy driving. Lowest maintenance. Performance is very good. Boot space is average. But a very good car.

Good car for city ride. AC is very good. Smoother than other cars. The best car under 5 lacks.

I love Maruti Alto K10, it has a good engine, the car has a very low maintenance cost and has all the features required.

Maruti Alto K10 is a good car for city ride. AC is very good. Very smooth car in comparison to other cars. Great cars under 5lakhs budget.













Not Sure, Which car to buy?
Let us help you find the dream car

Are you Confused?
Ask anything & get answer లో {0}
జనాదరణ పొందిన car insurance companies
×
We need your సిటీ to customize your experience