జీప్ కంపాస్వినియోగదారు సమీక్షలు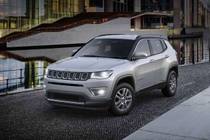 Rs. 16.49 - 24.99 లక్ష*
*ఎక్స్-షోరూమ్ ధర in
న్యూ ఢిల్లీ
జీప్ కంపాస్ వినియోగదారు సమీక్షలు
All (240)
Mileage (21)
Performance (29)
Looks (57)
Comfort (41)
Engine (36)
Interior (31)
Power (57)
మరిన్ని...
తాజా
ఉపయోగం
VERIFIED
CRITICAL
Best SUV car of 2019 best interior Jeep always takes care of his customers with comforts luxury good pick up good height good space. The exterior of this car is mind-blowing various variants available you can choose as per your expectations superb pickup. Jeep compass is best to compare other same range SUV cars. ఇంకా చదవండి

This car is not for soft hands boys this is for a true man who is strong physically and mentally prepared for adventure.

Jeep Compass is an awesome car loaded with a lot of latest features that provide complete comfort to everyone. It has been almost 3 years that I'm using this car and it gives really good mileage. Adjustable seats give me so much of comfort even on the long route. There are a lot of safety features in this car that make it my first preference in SUV...ఇంకా చదవండి

It is an awesome car & especially the 4wd model. I and my family enjoyed many road trips with this car this year we are even planning to take it ladakh it is very comfortable very powerful and has an overall good status in public. ఇంకా చదవండి

Most powerful car in this budget along with luxury and comfort. It's a value for money car along with good mileage and suspension.

The car is best in the segment and this car has excellent performance output. The car is economical and has a great design.

Excellent drive great for off-road trips and also, good for metropolitan traffic conditions as well. The comfortable and not tiring ride is impressive due to the SUV experience gets the feeling of a real comfortable ride. Off-roading is worthwhile as the ground clearance helps you drive safe and exciting both at the same time. ఇంకా చదవండి

The styling and comfort of the car is perfect, but the car has some issue with the clutch and tires. It delivers a great fuel economy of 20kmpl.

Control of this car is just amazing, you can easily turn your car at the speed at 140 to 150 at highways and the safety of this car is cool, I bought this car previous year at 21 Jan 2019 and till now I never faced any problem, I have driven this car mainly at the speed of 120 to 140 and it's amazing. ఇంకా చదవండి

Ultimate performance superb style and safety are best in class. 

The reason behind shortlisting this car was that it is the best in class in terms of road presence, prestige, driving experience and comfort. I was looking for an automatic SUV in the 20-25 price range. My initial choice was the Pajero which is available for this price range in Europe but apparently in India cars are more expensive to buy. The Jeep...ఇంకా చదవండి

The driving feel is very good. The sound system is superb with an excellent base and is extremely powerful.

Best SUV and nice off-road comfort in this price range. Safety is also nice.

It is a gud SUV, I like its performance is good. Its touch screen is amazing.

Luxurious in class. Best SUV, it's all features are amazing.

The car is very nice, it gives a very premium experience, best car of its segment. The price range is really good with all the good features.

The diesel engine is good but petrol looks a little bit under power with a lot of gear shifting. Materials in the interior are of good quality but white shade often becomes dirty. Its a solid good vehicle just need more power. ఇంకా చదవండి

I am fully satisfied with this car. This is a good compact car and a good SUV. This car is very good in absorbance of bad roads. It is a good family car. Driving this car makes so comfortable and memorable. Its features are so good. Its automatic handbrake system is good. ఇంకా చదవండి

It's a great car. value for money. Powerful Diesel Engine (173 BHP, 350 Nm Torque) is a great feel for enthusiast drivers. It's a true Jeep DNA with excellent built quality. ఇంకా చదవండి

You will feel that the price of the car is on a higher-end but it's worth spending the extra money! Value for money!

It's a great car. I have a Jeep Compass 2018 is a limited manual car. It was my dream to own. Till date, I haven't faced any problem. The power, handling, luxury feel, everything you get it for 20-25 lakhs is absolutely insane. More than that it's really suited to Indian road conditions. I never felt lethargic even after driving for 600+ km per day...ఇంకా చదవండి

Too many issues with the clutch plates and 2.0 liters Fiat-sourced diesel engine is problematic and compelled me to get the clutch plates changed twice in just 4000kms.

Its been nearly 2 years of my Jeep Compass limited edition and I must say, it's just a completely fantastic car. The features are very good. Loved this car and its value for money. Maintenance is a bit high but the person who buys 5 seaters in this range does not feel it so. ఇంకా చదవండి

I have been using jeep compass for 1 year and it is still the best SUV. But it still lacks some features like cruise control and navigation.

I purchase the Jeep Compass sport plus Bedrock diesel. Very satisfied with the Jeep Compass. Exotica Red color is eye-catching. My driving 50% in villages road and 50% in the city + Highway. Today completed 500km. Reason to buy jeep compass - got an enjoyable ride in the village road. Because eyes see a pothole on road but jeep compass can't feel i...ఇంకా చదవండి

Good car and looking very happy More comfortable, very high-speed power, boot space more, it looks like a RangeRover car. car shape also cute.

Best in class with wonderful driving dynamics and powerful engine. The dual-pane panoramic sunroof is awesome.

Jeep Compass is a great car because the dimensions of the car look brilliant and the pick-up of the car is tremendous.

The car is fantastic and also the features of the car are great . It is a perfect car.

Are you Confused?
Ask anything & get answer లో {0}
కంపాస్ ప్రత్యామ్నాయాలు యొక్క వినియోగదారుని సమీక్షలు
*ఎక్స్-షోరూమ్ న్యూ ఢిల్లీ లో ధర
వినియోగదారులు కూడా చూశారు
పాపులర్ car insurance companies