టాటా హారియర్వినియోగదారు సమీక్షలు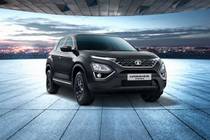 Rs. 13.69 - 20.25 లక్ష*
*ఎక్స్-షోరూమ్ ధర in
న్యూ ఢిల్లీ
టాటా హారియర్ వినియోగదారు సమీక్షలు
All (2196)
Mileage (95)
Performance (192)
Looks (758)
Comfort (325)
Engine (223)
Interior (317)
Power (261)
మరిన్ని...
తాజా
ఉపయోగం
VERIFIED
CRITICAL
Nice car and nice drive with great safety features and excellent performance. Nice design and development are very good.

Tata Harrier is good in design. The best car of Tata for my opinion. This is a car with the best features in its segment and its price is very very reasonable. It also comes with very good alloy wheels which can make a great presence on the road and at last, it is also available in various colors for many consumers. ఇంకా చదవండి

The best compact SUV in the segment though it's not a compact SUV for its sheer performance and size compared to other cars in India. Tata cars had a reputation of using low quality plastics inside the cabin and emitting a lot of smoke. But over time they have improved a lot and it's evident in this car. It's so powerful offering an amazing drive q...ఇంకా చదవండి

It is very good looking and comfortable for driving and good space and feels you relax. On all seats. the engine is very powerful for any type of road and hill area or other. I will try in Ganga sand near the Ganga river in 3 gear without over Pixelmator. I recommend it to everyone. ఇంకా చదవండి

This car is a wonderful car with a lot of features in it. New sunroof added is nice but the cost should be a little bit lesser.

The car is wonderful but the cost of the car is a little bit high. But the style of the car is amazing. The red one is amazing. I like the dual-tone red with black, this colour is wonderful. But the steering is a little bit tough to rotate. Milage is also decent. The engine is not much noisy. The pickup is quite nice in the manual but the automatic...ఇంకా చదవండి

One of the best cars with the best features and amazing looks. This car is one of the most powerful cars with best features. I love the look of the car very much.

This is a sturdy car, with the best handling, great looks, comfort offered is nice, the cabin is spacious, the after-sales service cost is affordable, the car has a 2ltr engine which is very powerful engine. ఇంకా చదవండి

The car is best in its segment and has great driving control with nice suspensions which leads to ultimate comfort.

It is best stylish products in the segment ....with omega platform Segment best safety features Having 14 esp mode Special the off-road disc brakes Given the best feature s in sunroof Its good decision to have yellow projector lamp Because according to Indian weather its help to gives us good vision quality on fog.....i love the tata harrier ఇంకా చదవండి

Tata Harrier is fully built on RR platforms. I think both BS4 and BS6 are in the same grade compared to the competition.

Harrier is the land Rover platform car is the most luxuries car in the segments. I purchase 20 march first BS6 Harrier with the sunroof.

Tata Harrier is the heavy loaded car at a reasonable price. Looking for Product, beat quality. Number one Indian best quality, Five-star safety

This new facelift is a good car at this price range. There are some features it has which its rivalries don't have. The performance is better than before because it gets 168ps of power and there is no change of torque. The overall built quality is excellent. There are minor changes in the interior. About the exterior, its rims have been changed. Th...ఇంకా చదవండి

The performance of the car is great with great mileage.

This is the most loveable car with my family fully comfortable and relaxed best for a long tour. The car we ask to use in a city where all the road is very poor condition this car provide us good comfort. ఇంకా చదవండి

The car is absolutely fun to drive in the city and for long drives too. It has a fully loaded infotainment system and provides nice comfort and driving experience.

I am sharing my experience regarding the Tata Harrier 2020 BS6. It has a lot of attractive features which makes it the perfect SUV. Because of its killer looks the Harrier has killer looks seriously you will also become the fan of its look. According to me, it's similar to Land Rover. The panoramic anti-pinch sunroof and diamond-cut alloy wheels. I...ఇంకా చదవండి

Yes, harrier is a car that is as of now worth buying in the market. ... tata has launched its new Car in the SUV market which is called harrier. This car was launched in January 2019. This is the first SUV car of tata Motors which is launched in 2019.Best car in the Segment. Tata Harrier is the best value for money car in the segment. Features are ...ఇంకా చదవండి

This car is amazing my father drove it as test-drive but at that time we got the manual transmission and the give automatic with more features like the panoramic sunroof. ఇంకా చదవండి

Very awesome car and a very beautiful car, nice looking and crazy look comfortable and mindboggling car.

This car is wonderful awesome driving good feather good mileage, and full space under the car that's I called mini fortune.

Safe, good looking. Feel Pride while driving. Rearview Mirror visibility feels poor visibility which can be manageable with outboard mirror.

Harrier is one of most powerful and interesting vehicles. Harrier manufacturing is amazing is fulfilled by Range Rover Legendary platform. These are a huge point of this budget vechiled the power pack package of Tata. ఇంకా చదవండి

I am facing the same problem as it was in the last month. Repeatedly, again and again, I am getting embarrassed and humiliated for the product that I purchased paying Rs1970000. Since the day I purchased the vehicle I have been going to the service centre named Trupti Automobile and giving my vehicle for 4-5 hours. I am getting mentally harassed an...ఇంకా చదవండి

I love this car, the exterior is best like Land Rover. I like all its features.

Awesome car. Easy to drive, smooth on road. Good service from Tata also. It looks better than any other cars in this segment. Tata made some remarkable features in this car. ఇంకా చదవండి

Value for money and a great car to drive even in mountains and plains, don't really believe its a Tata product.

I drive this car & I must say this is a super experience and long drives are charm with super stability and comfort. I would recommend Harrier over Hector or seltos. Automatic would be a real plus for new buyers. ఇంకా చదవండి













Not Sure, Which car to buy?
Let us help you find the dream car

Are you Confused?
Ask anything & get answer లో {0}
హారియర్ ప్రత్యామ్నాయాలు యొక్క వినియోగదారుని సమీక్షలు
*ఎక్స్-షోరూమ్ న్యూ ఢిల్లీ లో ధర
వినియోగదారులు కూడా చూశారు
2 ఆఫర్లు
టాటా హారియర్ :- Exchange Bonus అప్ to Rs... పై
దయచేసి డీలర్తో లభ్యతను తనిఖీ చేయండి
జనాదరణ పొందిన car insurance companies