స్కోడా కొడియాక్వినియోగదారు సమీక్షలు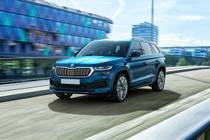 28 సమీక్షలు
Rs.37.99 - 41.39 లక్షలు*
*ఎక్స్-షోరూమ్ ధర న్యూ ఢిల్లీ
స్కోడా కొడియాక్ వినియోగదారు సమీక్షలు
అన్ని (27)
Mileage (3)
Performance (5)
Looks (4)
Comfort (14)
Engine (6)
Interior (4)
Power (5)
మరిన్ని...
My neighbor recently got a Skoda Kodiaq, which is an excellent SUV. The large and lavish interior of the car is ideal for comfortably hosting their complete family. Its strong engine and superb driving dynamics make it a delight to drive on city and regional routes alike. The enhanced safety features of the Kodiaq give peace of mind, while a wealth...ఇంకా చదవండి

The Skoda Kodiaq is a remarkable SUV that offers a perfect blend of style, comfort, and versatility. The car's imposing, powerful body attracts attention on the road, and the roomy, opulent cabin offers a first-rate driving experience. The Kodiaq is a great option for families or people who want to go on adventures because to its roomy seating capa...ఇంకా చదవండి

Skoda Kodiaq is an exceptional SUV that outperforms expectations in every way. Its imposing and elegant form draws attention wherever it goes. The inside is wide and comfortable, with plenty of capacity for both people and freight. With its simple interface and smartphone connectivity, the sophisticated entertainment system keeps everyone connected...ఇంకా చదవండి

The drive and handling are so smooth and safety is also good but It builds quality and the interior according to price not worth it.

I just bought a Skoda Kodiaq, and I must say that I am thrilled with its modern and stylish look. The sharp lines, unique grille, and sleek curves of the vehicle set it apart from rival SUVs in its class. The spacious the interior of the car was another advantage, with plenty of legroom for both the driver and passengers. The performance of the veh...ఇంకా చదవండి

Skoda kodiaq is a great suv comes in this price range. This provides excellent features in this price range. It has excellent safety features also. I like its headlight which is having a cool design and I love this car. It's my opinion that if you have this range of money you should buy this car.ఇంకా చదవండి

I loved the car and now I'm going to buy this soon. Best in class. The best feature attraction is the maintenance cost of this luxurious segment compact SUV.

It has a nice performance and is a completely safe vehicle and has driving comfort are very excellent the maintenance is also very comfortable.

In Sport mode, the Kodiaq behaves noticeably different as the steering gets heavier and the throttle response becomes crisper. Through corners, it feels stable and predictable - the steering is light and weighty as you apply some lock, with enough feel on the centre. Now the Kodiaq isn?t as keen to turn in or change directions like some of the Germ...ఇంకా చదవండి

Skoda Kodiaq Practical, big interior with roomy first two rows and storage possibilities Riding: Noticeably flat ride quality that maintains comfort over uneven terrain. my dad owns it and adores it a lot its luxurious and and looks geeat too.ఇంకా చదవండి

My uncle recently bought Skoda kodiaq in last month. This SUV is quite expensive at a budget of 40 lakh. The performance is marvellous, offer the smoothest drive in city and on highways as well. The built quality is so good. This car is so safe and matches all the safety norms. However, the price of Kodiaq is too much. At this budget there are lot ...ఇంకా చదవండి

What is lacking in Skoda Kodiaq. The name and the qualities it offers are the beginning of amazingness. The hill descent control, nine robust airbags, the differential lock system, and many more strong safety measures. I booked the Skoda Kodiaq vehicle shortly after its launch in the market.ఇంకా చదవండి

Noticeably flat ride quality that maintains comfort over uneven terrain. It's a good car and the blue looks fantastic though I adore its comfortable seats. I really wanted a luxury car and this is just perfect.ఇంకా చదవండి

All the designs and looks of the Skoda models look the same from the front side. And that might be the code signature of the brand I think it's high time now that Skoda should opt for something new. The price range is a bit on the expensive side. The build-up quality is too good and nice. I really like Skoda Kodiaq.ఇంకా చదవండి

The greatest car for me is the Skoda Kodiaq. Long hours won't be an issue because of the comfortable seats, which makes me think of the old Kodiaq. The memory function for both front seats is a welcome addition to this facelift, as is the seat heating and ventilation.ఇంకా చదవండి

I bought my dream car Skoda Kodiaq on 26th May 2022 since then I am enjoying everything about this car just have no words to explain how good this car is it has got all the needed features and safety is on another level of the power and performance it's just amazing you can feel the difference of driving modes the ambient lights are very cool.ఇంకా చదవండి

Overall experience is very good. Comfort and safety features are very well. The automatic transmission is very good.

Skoda kodiaq is the best choice in the 35 to 40 lakhs price segment. The best comfort and features car.

Nice car with all necessary features. Perfect car for a family of 7 members. Best premium SUV under 40 lakh.

Good comfortable car. The build quality is amazing. Power being such a huge SUV is excellent. Mileage is one of the main reasons to purchase this car.

This is the best car in this segment, it gives good mileage and has a low maintenance cost. Comfortable seats and an infotainment system are also good.

Skoda cars are the most powerful cars and that's why I bought this Kodiaq & am happy with it undoubtedly. It has lots of features which made it special for me, I always want a sunroof in my car. It has zone climate control, a big music system & many more. Really love my car.ఇంకా చదవండి

Superb car with a lot of safety features, and best in segment features. The price is good for it, this is good for long drives and city drives.

The Skoda Kodiaq is one of the best cars in the segment. My buying experience was really great. I shortlisted this car as I wanted features, comfort, and performance which I got in this car. The Pros of my car are - It has some very good features like driving modes, panoramic sunroof, electric tailgate,360 degrees camera, 9 airbags, Traction contro...ఇంకా చదవండి

Simply amazing, classy, and real petrol SUV. German engineering at its best. Just go for it.

Supercar. Good for city drive and long distances. Excellent driving comfort. Good service. Clever features.

Presently I'm using Skoda Laura. I would like to have a diesel version of Skoda mini SUV of ex-showroom around Rs.15 lacs.













Not Sure, Which car to buy?
Let us help you find the dream car
User Reviews on కొడియాక్ Alternatives
వినియోగదారులు కూడా చూశారు

Are you Confused?
Ask anything & get answer లో {0}
జనాదరణ పొందిన car insurance companies
*ఎక్స్-షోరూమ్ న్యూ ఢిల్లీ లో ధర
×
We need your సిటీ to customize your experience