మారుతి జిమ్నివినియోగదారు సమీక్షలు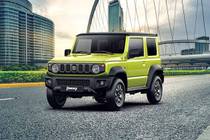 29 సమీక్షలు
Rs. 10.00 లక్షలు*
*estimated price
మారుతి జిమ్ని వినియోగదారు సమీక్షలు
అన్ని (29)
Mileage (8)
Performance (6)
Looks (15)
Comfort (6)
Engine (2)
Interior (2)
Power (3)
మరిన్ని...
Everything is good. And, looks like a Legend all of them are going to buy this vehicle because of the style.

This is a very nice car and it has very good mileage. It gives a very good performance and looks are awesome.

I want this car 3 door for small family and better for off-road, Maruti is known for good mileage, better performance

Great looks amazing design and hope it suits Indian roads on it's best. Very happy to see this on road.

Great looks amazing design and hope it suits Indian roads on it's best. Very happy to see this on road.

Its features are superb, I am waiting from last three years for Jimny its superb performance and best for off roads. Its features are amazing for different roads whatever they are, it is a compact SUV, I like it very much.ఇంకా చదవండి

Great looks, good competition for Thar, best features, I would like to see the final price and book one.

Please improve the back seat of the car it's too uncomfortable for adults and plz provide more space for them.

Always good in mileage, comfortable, performance, stunning looks, beautiful and Indian family loving vehicles. I'm a dying fan of Maruti Suzuki since its birth. love you, Maruti Suzuki.ఇంకా చదవండి

Better looks than Thar. Don't know about features but Suzuki will not let us down. Thar is priced heavily because they are spending billions on marketing. Jimny looks practical to me if it comes with 5 doors. On the other hand, Thar is loaded with features but lacks daily uses practicality. Rear seats of Thar are not very comfortable. Ingress and e...ఇంకా చదవండి

This car will surely fulfil all dreams of India. We wish this car to be India's third safest car after Tata Nexon and Tata Altroz. I think Maruti Suzuki is working after the safety performance of the car. Jimny is the most awaited car in India and I hope it would be better than Maruti Suzuki Gypsie. ఇంకా చదవండి

Excellent look and attractive model. I would like that military green colour and the total size of Maruti Jimny.

The car is reliable and has ease of handling while driving.

Very good looking car and affordable for a middle-class family and it is a small SUV this is so good.

Everything is fine with me in Jimny. It has got excellent power, looks, features, it's a perfect machine.

This car is having a good design. All its features are amazing.

Nice car with good features. It is good for a small family.

Good mileage, good comfortable and safety and security, easy to drive and the engine is also powerful.

Maruti Jimny amazing in SUV style, but bodyweight or less metal, but the design is nice. The interior is not good and also the safety features are lacking.

That's a very good vehicle in this category. Length of this vehicle makes easy to ride in high traffic areas. Height of Jimny is great to ride in rocky areas. Overall an excellent vehicle.ఇంకా చదవండి

It is a beast and the looks are awesome. The price is up to negotiable and the colors are too good. It is a perfect SUV by Maruti, its massive and as soon as possible wish to get soon in India. Overall, it has a powerful engine and it is full of fun and fully loaded.ఇంకా చదవండి

The car has great build quality and aesthetics, the car is comfortable in the drive.

The car is a great one in its segment and it has an aesthetic build, but the price seems bit high.

The SUV Jimny is a great off-road car and it has great comfort.

The looks of the car are excellent, the pickup is good, Mileage is great too. The ground clearance should be increased, for better performance. Overall the car is average.ఇంకా చదవండి

The car has great looks, and the building design is satisfactory, the comfort was not at par, the pickup was satisfactory too and the mileage was not good. Best feature of the car is its design. Largely, the mileage needs improvement.ఇంకా చదవండి

Jimny look is very beautiful. Please also launch in Automatic segment with good mileage. Also ensure on road price should be less than < 6 L Looking eagerly forward to meet Jimny....!!!ఇంకా చదవండి

I like SUV cars and Maruti Jimny is too good in looks as well as it carries great functions with it. The colour provided with the car seems too good and attractive. ఇంకా చదవండి













Not Sure, Which car to buy?
Let us help you find the dream car

Are you Confused?
Ask anything & get answer లో {0}
ట్రెండింగ్ మారుతి కార్లు
ఆల్టో 2022

Rs.3.50 లక్షలు*

అంచనా ప్రారంభం: ఫిబ్రవరి 18, 2022

సొలియో

Rs.6.00 లక్షలు*

అంచనా ప్రారంభం: ఫిబ్రవరి 22, 2022

futuro-e

Rs.15.00 లక్షలు*

అంచనా ప్రారంభం: ఫిబ్రవరి 10, 2022
జనాదరణ పొందిన car insurance companies