Safari Storme Varicor 400: Powerful but showing it's age
Safari Storme Varicor 400: Powerful but showing it's age
Although the basic boxy shape of the Safari has remained the same over the years, Tata has tried to keep it fresh through facelifts and feature additions. The Tata Safari Storme Varicor 400 is the latest and the most powerful version of the Safari.The Safari Storme Varicor 400 is available only in the top-end VX variant in both 2WD and 4WD versions. The 2.2 liter VARICOR diesel engine in it produces 156 PS of power @ 4000 RPM and as it's name implies 400 N-M of torque @ 1750-2500 RPM compared to the normal Safari Storme in which the same engine produces 150 Ps of power @ 4000 RPM and 320 N-M of torque @ 1700-2700 RPM. The extra power and torque can be felt during acceleration which is better than the normal Safari Storme. 0-100 kmph takes 12.8 seconds which is about 1 second faster than the normal Safari Storme.The engine has some turbo-lag though until 2000 RPM and a surge of torque is felt above that. Due to that gear down shifting may be required if the RPM drops below 2000. It also has a 6 speed manual gearbox as against the 5 speed manual in the normal Safari Storme. The extra gear helps in getting better fuel economy during highway cruising. The gear shifting itself is notchy and could be more smooth shifting.The Safari Storme's suspension is among the most absorbent among Indian SUVs and absorbs road imperfections nicely though it's tall stance and high center of gravity means it is not meant for high speed cornering.The interiors are spacious enough although the 3rd row bench seats are good enough only for kids. The dashboard looks basic and is not as modern as other SUVs like the Mahindra XUV500. It lacks amenities like automatic climate control, touch screen infotainment system and a full multi-information display which are expected at this price. The air conditioner control is manual, the multi-information display offered is basic and displays just 2 trip meters and a digital clock.Overall the Tata Safari Storme Varicor 400 is the most powerful variant of the Safari Storme which has its' traditional strengths like space and ride quality but it's basic boxy shape and interiors have not been modernized much over the years and feel dated. Rivals like the Mahindra XUV500 and the Toyota Fortuner offer more modern styling and interiors and similar or more power and torque. Tata is going to launch the Hexa in the coming months which will have the same engine with the same power and torque figures as the Safari Storme Varicor 400 but with much more modern styling and interiors than it. Wait for that if you can. Buy the Safari Storme only if you can overlook it's shortcomings.
Write your Comment on టాటా సఫారి storme
టాటా సఫారి storme వినియోగదారు సమీక్షలు
ఆధారంగా
164 వినియోగదారు సమీక్షలు
All (164)
Mileage (45)
Performance (16)
Looks (58)
Comfort (79)
Engine (29)
Interior (27)
Power (28)
More ...
తాజా
ఉపయోగం
VERIFIED
CRITICAL
I loved my Safari, this is specious, big height, big view all side, best car for a long drive, VIP Car.

The mind-blowing car my dream car thank you, Tata, for this amazing SUV. I would purchase Safari Strome 4*4 as early as possible.

Safari is good and safe than others as Scorpio etc. I like this because it's VIP. I suggest If anyone wants to buy a VIP car then go for a Safari.

Tata Safari is very beautiful and very powerful for long-term profitable comfort that makes the journey beautiful.

TATA's proper Suv STROME.The VX 4×2 Strome offering 6-speed manual transmission with 2.2ltr 2200 CC varicor engine which producing 158 bhp and 400nm torque this engine is...ఇంకా చదవండి

Awesome cars and it has comfortable seats and look is very fabulous, but it is costly and maintenance is medium. I think it is a very good opportunity for the middle clas...ఇంకా చదవండి

అన్ని సఫారి storme సమీక్షలు చూడండి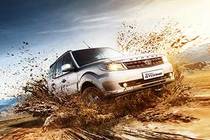 Rs. 10.99 లక్ష - 16.62 లక్ష*
ఈ కారు మోడల్ గడువు ముగిసింది
వినియోగదారులు కూడా వీక్షించారు
జనాదరణ పొందిన car insurance companies