BOLT is a BOLD Presence of TATA. Love this Car.
BOLT is a BOLD Presence of TATA. Love this Car.
Test Drive the Bolt Petrol XT(REVOTRON) in Rajkot City for 25 Minutes. Sharing the experience of Test drive & already booked Bolt XM. Loved the performance of the car as compared to cars in the same segment. Compared the Car with already Test Driven ones - Beat, Sail Hatchback, Brio, Grand i10, i10. Look and Style:- First lets discuss about the Exterior:- It'so sporty with a black pillar paint at back. The Head Lamps with a blackened Finish & Projector Head Lamps adds a little cheekiness & Cat view to the car. The Center bulge in Bonnet reminds of the Octavia (OLD one) & gives it a brilliant look with BOLD presence. The Chrome finish on Fog Lamps gives it an executive look. Now comes the interior:- The interior is plush with all new world technological gadgets & also gives a very impressive look. Tata has done a lot and matched the prices within common man's pocket. The Harmann Touch screen Infotainment. Steering mounted Controls. Chrome Finish on Side doors handle & dashboard. The interior is much refined & updated according to today's demand. Hats OFF to TATA for such bold & generous move to create the ambience in the car. Comfort: Already an owner of Indigo TDi and loved the space & seating comfort TATA cars provide. With Multidrive Option to choose from SPORTS mode its best to have optimum performance from the car. The best in the segment, I would say. It is very comfortable for three people to seat at the back seat and has good leg room. The steering moves very smoothly and makes your drive comfortable. The power steering seems to be the best in the segment. The speedometer and related information given by softwares are very good and informative. There are various safety features and it gives a sense of confidence in the product. With Multidrive Option to choose from SPORTS mode is best to have optimum performance from the car. Pickup: Now its time to tell about driving experience. The car starts in default City Mode. with medium Pickup & cruise to 60 Km/hr in 15-20 Sec. The car once shifted to Sports mode has ability to gain acceleration of 60 KM/hr in 10-12 Sec. A rapid gap of 10 secs can make them count on any drag race. Although the car is not meant for racing experience but one can have the feeling of Power under the hood when switched to Sports mode. Mileage: The Test Drive Model was giving Average Fuel economy of 10.8Km/l when checked by me & on Highway it was 15.6Km/L. Although yet to know in detail waiting for my own BOLT. Best Features: Everything I love about this car. The XM variant features ABS with EBD, Infotainment (Non Touch screen) with all other basic accesories. Needs to improve: Nothing to improve. Loves the car as it is made. The second to the line variant suffice all the basic needs as well as safey features such as ABS with EBD. What else a customer require at such an attractive prices. Overall Experience: Stability of the car is very good on the road with ABS & EBD. Felt like sitting in a compact SUV. I drove other cars but never felt so easy to drive. Driving comfort is excellent. The Best Pack is Safety pack and interiors. TATA has done its best to improve. Lets go for the Bolt.
Write your Comment on టాటా బోల్ట్
1
a
anson
Oct 7, 2015 12:09:09 AM
Please share your reviews. I am planning to buy this car. Can you share your number. What is the fe?
సమాధానం
2
K
kirankumar
Oct 24, 2015 11:34:11 PM
What do you want to know?
సమాధానం
2
a
ajinkya
Nov 23, 2015 12:06:49 PM
Awesome car in this segment. It offers more features .then the swift. St this price point . It's a un douted car ... I've book the xt REVTRON . it deliver in 1st Dec.. Excited ??
సమాధానం
1
b
bhat g m
Jul 5, 2015 11:52:24 PM
Good cost effective
సమాధానం
2
v
vigneshwaran
Sep 12, 2015 7:57:39 PM
Hello sir what is experience now can u please share
సమాధానం
టాటా బోల్ట్ వినియోగదారు సమీక్షలు
ఆధారంగా
51 వినియోగదారు సమీక్షలు
All (74)
Mileage (26)
Performance (11)
Looks (24)
Comfort (26)
Engine (19)
Interior (12)
Power (15)
More ...
తాజా
ఉపయోగం
VERIFIED
CRITICAL
Tata Bolt XE diesel Pros: Speed, Steering, Legroom, AC, service cost (maintenance). Cons: No space for water bottle, Engine sound,door noise, suspension. Door injection...ఇంకా చదవండి

Tata Bolt is the best value plus car is well maintained and all service done in tata authorized service station. Awesome road grip. Great music experience. Reverse parkin...ఇంకా చదవండి

I drive it from Indore to McLeod Ganj, Indore to Yamunotri, Indore to Somnath and Dwarka with family without any problem. It is a comfortable and secure car.

Tata Bolt is the best car in India with the best pickup, mileage, and safety. It's my favorite car. It's gifted by my mom.

Tata Bolt is more spacious compared to all other hatchbacks. Comfortable driving Interior and steering look very rich like Benz. I reached the mileage up to 17.2 km/l pet...ఇంకా చదవండి

We good vehicle for Indian roads good mileage, good condition, and very good inner space nice body.

This is a very good car in the segment. The looks are impressive. It is a spacious car. The engine is really powerful. 

Tata Bolt is good for pick up, very good for a ride, enjoyable ride with comfort, affordable in the economy, best with the body quality, classy in looks, easy with contro...ఇంకా చదవండి

అన్ని బోల్ట్ సమీక్షలు చూడండి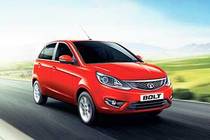 Rs. 5.29 లక్ష - 7.87 లక్ష*
ఈ కారు మోడల్ గడువు ముగిసింది
వినియోగదారులు కూడా వీక్షించారు
జనాదరణ పొందిన car insurance companies