Nice car with great mileage .. perfect కోసం office , సిటీ and occa...
Nice car with great mileage .. perfect for office , city and occa...
I have just completed 800 KMs and did the first servicing.. experience was great in last one month..except a minor dent ..bcoz of a biker...Had a minor problem in front passenger side door...still has it...tech guy was not able to fix it. will check next time... If you just drive within the city ..ofc to home and home to ofc..and weekend trips then this is the best car with a mix of mileage and design and comfort....I am still learning on how to maintain a diesel car...will post more when I get those. Look and Style- Great looks and aerodynamic design. Good comfort for medium built 5 persons. Comfort-Highly comfortable while driving apart from the side view which is slightly uncomfortable but ok when you used to it. Pickup-This is the demerit for me as I had 3600 Mitsubishi Diamante...which is uncomparable with the price and features. Mileage-Its great ..simply great..I am a new driver on Indian roads with manual transmission..getting around 18 KMPL. Best Features Interior, Mileage, design, Comfort- Needs to improve the Front view and a little bit of boot space..if possible more power for me :) Overall Experience is great.. you don't feel like a diesel car...
Write your Comment on చేవ్రొలెట్ బీట్
1
s
sanjaya
Feb 21, 2013 11:02:38 PM
Well.. I have completed 12000 KM last month....so far so good. But i am wondering in my last long trip where I drove around 1000 KMS.....and the mileage was awesome...its 25.96.. But the points I took care 1) Never drove more than 70 KMPH 2) No rush to speed up the car ..like 60 KMPH in 10 sec blah blah 3) Drove with 3 adults including me .. so less load on the veichle while driving.....
సమాధానం
1
A
avin
Feb 28, 2012 7:29:07 PM
Hey all... I am going to buy this car. Is this good for low maintenance? My running is 20km per day or 1000km per month... Which model will be the best one.. Pls suggest all beat users..... I am eager to know the feedback of beat.
సమాధానం
2
s
sanjaya
Mar 4, 2012 8:37:02 PM
1000 km per month will need 5 yrs to recover the price you pay for diesel engine..... but still its good asyou will see a price hike in petrol after election...and maintenance ..nobody can tell you as this engine is only 8 months old :)
సమాధానం
3
A
avin
Mar 5, 2012 10:56:21 AM
But what about Petrol Engine??? I am confused about petrol or diesel engine... Tell me which engine i should go??
సమాధానం
4
s
sanjaya
Mar 6, 2012 8:51:58 PM
If you run more than 1000 kms per month then go for diesel else petrol... Also please note that maintenance cost will be little higher in case of diesel engine and needs more care than petrol
1
s
sanjay
Feb 4, 2012 7:23:41 PM
now getting 19 KMPL in city after first servicing.... didnt experience on highways
సమాధానం
చేవ్రొలెట్ బీట్ వినియోగదారు సమీక్షలు
ఆధారంగా
243 వినియోగదారు సమీక్షలు
అన్ని (243)
Mileage (145)
Performance (45)
Looks (175)
Comfort (142)
Engine (77)
Interior (69)
Power (64)
More ...
తాజా
ఉపయోగం
VERIFIED
CRITICAL
Within a short budget I choose this car. It gave me wonderful mileage. Not very comfortable at the rear seat but with 60:40 split option even in the lower models it gave ...ఇంకా చదవండి

I have BEAT Diesel car and it crossed almost 75000 KM running , But now I have started facing lot of problem 1] Engine is consuming oil , I have to replace it every 5000 ...ఇంకా చదవండి

I have purchased Chevrolet beat Diesel model LT in Feb 2013, the car is really nice and compact still four persons can easily travel in this car rear seats are also havin...ఇంకా చదవండి

Our family has always been inclined towards buying Maruti. But I had to buy a diesel car with low budget. Decided to go for Beat LS diesel model. I must say am really imp...ఇంకా చదవండి

I am using Chevrolet beat from past 4 years and was getting it serviced from Bosch service center. Don't know why I got my last service done from Chevrolet dealer on 31st...ఇంకా చదవండి

I bought beat base model before 2 year in 2016 sep (4.80) with front power window steering very smooth good space, can sit 5 people easily mileage 20 in city with A.c and...ఇంకా చదవండి

Purchased in 2010 July, the car has been excellent mate in terms of a single-handed drive. Its been a true companion on highway driving, in 42 degrees temp of Gujarat, wh...ఇంకా చదవండి

Its the 4th year - perfect hatchback for Indian traffic. Amazing size, powerful engine, best suits for a small family with terrific mileage as promised by the company ( v...ఇంకా చదవండి

అన్ని బీట్ సమీక్షలు చూడండి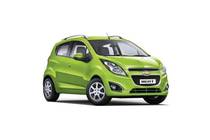 Rs.4.32 లక్ష - 6.57 లక్ష*
ఈ కారు మోడల్ గడువు ముగిసింది
వినియోగదారులు కూడా వీక్షించారు
జనాదరణ పొందిన car insurance companies