కియా సెల్తోస్వినియోగదారు సమీక్షలు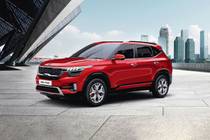 Rs. 9.89 - 17.34 లక్ష*
*ఎక్స్-షోరూమ్ ధర in
న్యూ ఢిల్లీ
కియా సెల్తోస్ looks వినియోగదారు సమీక్షలు
All (1871)
Mileage (219)
Performance (213)
Looks (609)
Comfort (440)
Engine (257)
Interior (319)
Power (174)
మరిన్ని...
తాజా
ఉపయోగం
VERIFIED
CRITICAL
Driven smoothly on all types of terrain experienced it on a journey to Uttrakhand. It was so comfortable to drive has parallel both performance and looks. The powerful AC cools down very rapidly and also the other features like Voice Command and Navigation System helped me a lot on the way and I am very happy that I chose Seltos. ఇంకా చదవండి

Kia enters the Indian market with Seltos which has great looks to mesmerize anyone also has numbers of features like Smart Connectivity, Large Screen Infotainment System and the interior that gives you perfect feeling of luxury as I own GTX DCT variant, but at the same, I think It should also offer Panoramic Sunroof as per its pricing also the main...ఇంకా చదవండి

I have been living with this car for the past 6 months and I genuinely love the experience. I have the GTX Plus AT variant as automatic suits my needs better. There's a lot to really like about this car, the look and feel just leaves me awed for a moment every time I enter my car. I love all the features, the infotainment system, the screen, the cl...ఇంకా చదవండి

Good looking and styles car. Mileage is also good and it is super.

 Its the best in its segment. The engine power is sufficient and over comfort and quality levels are excellent. If you want a Kia Seltos with all the features and looks with a good mileage you should definitely opt for the HTX trim. In terms of looks, the HTX model has most of the features that are present in the GT line. ఇంకా చదవండి

The car has excellent looks and features are superb and ride quality and built quality is awesome.

1. A leader in the segment. 2. Stunning Look. 3. Comfortable & Spacious 4. Reliable. 5. Great Mileage. 6. Feature Loaded. 7. Smooth Riding. 8. Superb interior. 9. Great Driving Experience. 10. Perfect SUV. ఇంకా చదవండి

It's the best car in automatic transmission and comfortable with the best price. The best looks. All the model has the best price between 9.8 and 17.8 Lacs.

Best car ever. Low maintanance cost. Good in mileage. Best colour combinations available. Best in looking.

4.7 kmpl mileage is a problem. Kia safety and modify look makes in a nice car of new generation. 

Performance is excellent and pickup is excellent Safety is excellent features are awesome. Comfort is awesome legroom and headspace is fabulous. The paint quality is awesome and looks are awesome and sporty. This car is meant for experienced people and the people who want acceleration. ఇంకా చదవండి

This car has very good looks. This can be compared with Toyota Fortuner.this is budget car and standard car. I like this car very much but different people will see this differently. Its mileage is cool but I think some more mileage is needed and engine capacity also very good and strong enough.safety and security is good. ఇంకా చదవండి

It's an amazing car with a stylish look. We get a feature-loaded car with great dimensions. I have HTX IVT G variant grey colour. There is only one problem that while overtaking any other vehicle it should have more power. Maybe, this is my first experience of driving an automatic car. Rest all is great with this car as KIA is under HYUNDAI and hav...ఇంకా చదవండి

While I agree the car looks stylish from outside bit the interiors were below expectations. While Kia has offered lots of features on the top model, the middle variants lack the appeal. I went for HTK+ model and was not satisfied. I am 6feet tall and the support for my thighs was hardly there. I have experienced better support in Skoda cars. The pl...ఇంకా చదవండి

Good cars for Indians... Keet it up for Indians. And love Kia design in a first look! It's a competitive price in its cars segment

I bought a Kia Seltos in November end. I use HTX PLUS AT diesel model. I am really happy and totally satisfied with my choice. The automatic transmission works really smooth and no lag when shifting gears. Great mileage in the city of approx 16-18kmph and 20 approx in the highway. Went on the road trip to Mussoorie. works just perfect for me. Very ...ఇంకా చదవండి

The car is value for money car. It gives a tough competition to Hyundai Creta. Look and features are good enough to its competitors in this segment.

This is a great car. Be it comfort and safety for the driver as well as for the passengers, this car offers a great value. GTX+ has some segment-leading features like 7 airbags, HUD, 360 camera, TPMS. If you are looking for an SUV in the range of 13-18 lacs. This could be your car. ఇంకా చదవండి

Looks supercools and the comfort level and performance is too high, except the mileage, everything is good at this price.

Kia Seltos is an unbelievable car with the latest technology, safety features, and truly is the amazing driving experience. It is the best selling SUV in India the car is a pleasure to drive and can be as leisure or sporty as you would like the engine is more powerful and complies with the new BS6 norms. Also, the chiselled rear bumper and nicely s...ఇంకా చదవండి

I have KIA seltos and I have to drive regular and I feel the much batter SUV in the segment. The car is looking muscular good car with great handling and advanced features. Pros - Styling, power, steering, AC, HUD, voice command, navigation, 360 camera, parking assist, sunroof, ventilated seats, but worth the money.  Cons - Tyre size, rear shock ...ఇంకా చదవండి

Kia Seltos is a very premium looking car. And its performance is obviously very impressive. Safety is always the first priority for all and Kia has always taken care of it. In a few words, KIA has stood at our expectations. I would always prefer Kia Seltos or other cars of Kia to all those willing to buy a car. ఇంకా చదవండి

Seltos is the first car of the korean manufacturer kia in indian market.And it is a excellent car . first of all its design it is fantastic and very futuristic .This car seems very modern from inside and outside. on the inside car have very good and modern interior layout.and have plenty of features like - connected car tech ,10.25 inch information...ఇంకా చదవండి

I bought that big crown-like car and I noticed that all the world around me looking to it like wow while night it looks like tight silent running and its mileage. Good as I expected it gives around 18 as it is HTX+ and when it comes to comfort there is no doubt that it has a great one and most interestingly. It has great feature and sound system is...ఇంకా చదవండి

Kia Seltos is a good SUV and also live up to its name,  I really like the SUV. Its got SUV and sporty look.

It is the first-ever mini SUV Kia Seltos in its segment to pack a huge variety in every facility like looks, features, specifications, safety, comfort, power, with lots of love, you can't compare Kia Seltos with any car in its segment because it gives you lots of things to stop your mind on Kia Seltos to buy it. ఇంకా చదవండి

Superb Car. The look is fantastic. I came to know about this car in Singapore. It's really amazing. Price is also good middle class also can afford it.

Overall its a good car looks are amazing  Problem regarding service and parts availability is there.

Kia Seltos is a very demanded car for Indian citizens the car comes with a very convenient and loaded with many advanced features that attract the customer. This car comprises a holographic mid in its QTX plus variant which is unique in this segment although. This car makes me feel best to drive another car I deed like the audio quality of the car ...ఇంకా చదవండి













Not Sure, Which car to buy?
Let us help you find the dream car

Are you Confused?
Ask anything & get answer లో {0}
సెల్తోస్ ప్రత్యామ్నాయాలు యొక్క వినియోగదారుని సమీక్షలు
*ఎక్స్-షోరూమ్ న్యూ ఢిల్లీ లో ధర
వినియోగదారులు కూడా చూశారు
జనాదరణ పొందిన car insurance companies