బజాజ్ క్యూట్ఆ ర్ఈ60వినియోగదారు సమీక్షలు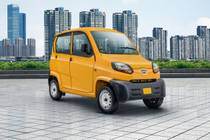 50 సమీక్షలు
Rs.3.61 లక్షలు*
*ఎక్స్-షోరూమ్ ధర న్యూ ఢిల్లీ
బజాజ్ క్యూట్ఆ ర్ఈ60 వినియోగదారు సమీక్షలు
అన్ని (53)
Mileage (16)
Performance (5)
Looks (12)
Comfort (11)
Engine (6)
Interior (1)
Power (2)
మరిన్ని...
It's a compact car with limited space, suitable for accommodating two adults and two children comfortably. It shares the same engine as Bajaj Auto, so you can expect decent speed capabilities. The best aspect is that it runs on CNG, making it a cost-effective option. It's primarily designed for individuals with lower incomes, and if they're conside...ఇంకా చదవండి

To unique and very easy to drive good mileage and low maintenance, is very good for office use, and has enough space value for money.ఇంకా చదవండి

In this price range, it is quite good. I have one, which is good enough in this range. It is better than the Nano. If you do not have much money to buy a car, you can buy this car for you and your family. It's a small-budget option and good enough for a lower-middle-class family. If you are considering buying a bike, you should consider purchasing ...ఇంకా చదవండి

I think it is the best car in the Indian market for middle-class people. Bajaj is the most trusted brand company. ఇంకా చదవండి

Good job and impressive road performance within speed limits. The car also provides comfortable seating for all passengers. ఇంకా చదవండి

The Bajaj bike is a perfect symbol of trust, reliability, and value for money. It's an awesome product that can fulfil the dreams of a common man.ఇంకా చదవండి

Great mileage, good for city drive, best car small family, good car, budget car no much maintenance.

Great value for its size and price. More stable and safer the engine performance is also very good Economical convenient for inter-city travel fuel-efficient. Overall it is a very practical vehicle. I suggest people buy this for their family.ఇంకా చదవండి

Very good product, the engine performance is also very good, it gives a mileage of 40.

Great value for its size and price. Perfect for congested small hill stations like Shillong. Easy to drive and easy to locate parking space due to its size. The biggest bonus is the fuel mileage these days where fuel cost escalates on a daily basis. A must-have for retired people.ఇంకా చదవండి

Good car and budget-friendly. The company should focus more on power but it's a good-looking four-seater with decent mileage.ఇంకా చదవండి

Good experience but maintenance cost was too high, the car also gives less mileage but talking about comfort it is good.ఇంకా చదవండి

Outstanding performance, good mileage, comfortable sitting arrangement. Economical convenient for inter-city travel fuel-efficient.ఇంకా చదవండి

This is a very nice car for a middle-class family with excellent mileage and comfortable to sit.

Nice and comfortable car.Highly recommended.

It is the best car in the segment, works well in the city and offers great mileage and good comfort, The maintenance cost is low too.ఇంకా చదవండి

Bajaj RE60 is a good vehicle for a short distance ride. But the problem is when you reach the speed hump. Overall it is a very practical vehicle. It is also very economically safe. It cannot go soo fast but this is enough. The transmission is very smooth but a little tight at some time. The seats are also very very good for rides.ఇంకా చదవండి

Bajaj RE60 is a nice car for our environment. It is a pollution-free car. The car is looking beautiful.ఇంకా చదవండి

Great mileage but the exterior design doesn't look great.

Bajaj RE60 is a good car for city drive as it gives a mileage of 45km in CNG. My height is 6 feet 3 inches and still seats are very comfortable in front as well as in the rear. ఇంకా చదవండి

Really the car Bajaj re60 is a car of great mileage. It is the poor people's car. As a commercial vehicle, it must be successful.ఇంకా చదవండి

The vehicle cc and bhp it's like almost bike, and wheels are too small that's why difficult to drive rough road.ఇంకా చదవండి

Very high price according to their features. The engine is very poor. When we do a comparison with Nano than Nano is better.ఇంకా చదవండి

This is one of the best car ever. Performance of this car is very good.

Good car for a small family. Bajaj car for new history for the Indian market.

This car is small in size and the price is also a bit high.

It's every Indian common man's car. Microcar. New look with good stability.

Middle-class family budget car very nice. This is like a mini car. Perfect look and turning area are also perfect.ఇంకా చదవండి

Bajaj RE60 is nice in price and it is so cool. It can be launched in India.













Not Sure, Which car to buy?
Let us help you find the dream car
User Reviews on క్యూట్ఆ ర్ఈ60 Alternatives
వినియోగదారులు కూడా చూశారు

Are you Confused?
Ask anything & get answer లో {0}
*ఎక్స్-షోరూమ్ న్యూ ఢిల్లీ లో ధర
×
We need your సిటీ to customize your experience