టయోటా ప్లాటినం ఇతియోస్వినియోగదారు సమీక్షలు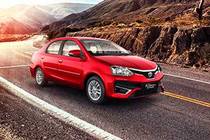 Rs.6.43 లక్ష - 9.13 లక్ష*
ఈ కారు మోడల్ గడువు ముగిసింది
టయోటా ప్లాటినం ఇతియోస్ వినియోగదారు సమీక్షలు
అన్ని (159)
Mileage (75)
Performance (32)
Looks (56)
Comfort (74)
Engine (47)
Interior (33)
Power (24)
మరిన్ని...
తాజా
ఉపయోగం
VERIFIED
CRITICAL
It's a good car to drive, gives good mileage, has great comfort, has medium power but not much powerful.

Fewer features but family-oriented car. Highway, mileage is good but city mileage not happy. Would have been great if an auto AC was available. Yaris features could have been included to make it an ultimate car. Ground clearance is a bit less for Indian standard breakers. Looks very decent with its looks.ఇంకా చదవండి

The car is very good and comfortable. Its design and performance is very nice with the lowest maintenance cost. Outstanding car at the low cost with very good functions, remote frequency, seating, mileage and boot space. It also has an alloy wheel and good engine performance.ఇంకా చదవండి

Excellent car with super mileage and affordable price for middle class and excellent for travels....

It's the best car for the family. Advantages- 1. Top-quality interior. 2. Best boot space even better than Fortuner( after folding back seats),3 or even 4 people can sit comfortably at the rear seat, excellent legroom. 3. Diesel variant ( which I have) makes very less sound. 4. Speakers are damn good. 5. The air conditioner is super fast. 6. ...ఇంకా చదవండి

I bought this car on Jan 15, 2019. This is the first time for me to buy my own car. After a discussion with my friends ( some of them are automobile engineers) they suggested me to go for Toyota because of its quality. One day, I noticed in the newspaper that Toyota Innova car which bought in 2005 was still on road and completed 600000 km. Most of ...ఇంకా చదవండి

I love its engine power, its mileage is good and it' gear shifting is also very smooth.

Simply Best car in this segment. Performance and it has Very Good Mileage other things want to say.

Toyota Etios is good. Mileage is 22 plus in the city. No problem in the engine. Diesel engine, very silent. Comfortable and nice. Look wise not so good. Basic features. Means car is not for fancy people.ఇంకా చదవండి

I love to drive the car. Performance is super and smoothly, drive and Mileage also superb, mileage is between 22-25 kmpl. The engine is also fantastic, and light dip is super I will enjoy this car driving suspension was fantastic power steering is marvelous and overall is mind-blowing this is my opinion.ఇంకా చదవండి

Total worth for money although features are basic but what you have got is best in the market. The engine is smooth and maintenance is almost NIL, Compared to other market leaders I have been using since 6 years still feels like new if some Body noise is ignored for that also roads are responsible. A com...ఇంకా చదవండి

Dependable, reliable, value for money, years of proud ownership without any issue even during long-distance covering of 1750 kilometers at a stretch.

Before purchasing a car, I have shortlisted cars namely Ford eco sport, Maruti Brezza, Honda WR-V, Tata Nexon models. After an exhaustive study of reviews, I went to each company showroom to get the actual feel of the cars and based on other observations of the vehicles I have concluded to purchase sedans that are suitable for my build. Based on th...ఇంకా చదవండి

I am proud to say I have the Toyota Etios. Excellent performance and good mileage. Very good after-sales services. The only drawback is it doesn't have an auto-lock system and infotainment system.ఇంకా చదవండి

Toyota Etios is the car on which you can go anywhere with full comfort and confidence in fewer expenses. Riding diesel version you can experience a high quality of soundless smoothness. If I have to buy 2nd one definitely will go with Toyota. Maintenance of Toyota is less.ఇంకా చదవండి

It is a very nice car, driving very smoothly, good condition, long drive comfortable, the family is going trip is enjoyable.

It is the very best car and it is my family member. This car is a very low budget sedan car and very low cost of maintenance every one likes my car.

Toyota Etios is the best in class in terms of mileage, performance, endurance, reliability, sustainable, maintenance and comfortability. Toyota has very good service centers and after-sales services. I'm proud to be an Etios owner which is amongst car being exported from India. Toyota always keeps preference for their customers in terms of reliabil...ఇంకా చదవండి

Awesome value for money car. Best leg room in its segment. Toyota quality service. High on roads and low on maintenance.

Toyota Etios is a tension-free car for 10-15 years, no maintaining cost. Superb mileage of 25, superb braking and balancing, engine power is very good. No problem in over taking. Very comfortable on the road also with 4+1 and luggage It's real queen of Road. It's a real diamond in this segment and price range. Toyota is no. 1 world l...ఇంకా చదవండి

My 100000 km is done with this car from 2013 though it lacks with power a bit but is a good and decent car best for the family tour as it gives good cabin as well as huge boot space The mileage that is best recorded is of 26+km/l on highways and 19+km/l in cities.ఇంకా చదవండి

Car-like Toyota Etios, efficiency, resale value, I love to drive my Etios platinum to feel like smooth power excellent driving comfort.

Affordable yet sassy and classy. The best part is the legroom and backspace. One can easily carry a lot of luggage. Features of all luxury cars. Easy to learn with easy features and adaptability. The best thing is the smooth steering. Every feature is really smooth and swift. Really great for a mediocre person.ఇంకా చదవండి

Performance is good, mileage is excellent, riding is comfortable, the ground clearance is very low so the mud flaps needs to be changed periodically. No video screen and reverse camera for the top VXD model, door trims are of poor quality and no hand rest in the front middle, the hand rest given on the back seat is of poor quality, Accord...ఇంకా చదవండి

Toyota Etios is giving a smooth drive with powerful Toyota engine. A good safe family economical car. Spacious in and out and the trunk is amazing with its excessive capacity of holding good luggage capacity. Grippy drive on roads and east to ride with no worries with good and economical features easily to be accessed by beginners also. A good pack...ఇంకా చదవండి

I am Etios G user for about 6 months; it is very sturdy, with driving comfort and ease of use. I have been using other model cars ranging from 1000 to 1800cc and I am getting very much driving confidence while in my new Etios G, which got ample leg and boot space, and fuel efficiency.ఇంకా చదవండి

Amazing car with excellent boot space. Love the pickup and smoothness of the car. The maintenance cost is very low. The only issue I faced is the car is too heavy to drive. Good for long route and highways but a bit tricky in city especially congested roads. The sound quality and interiors are at par but can be improved in terms of finishing.ఇంకా చదవండి

A very luxurious vehicle with good mileage and awesome spacious place in the car, excitable suspension can be experienced in long journey, loved it ! & loving it!

That's a very fantastic car. It gives a luxurious feel. Etios car experience is a very good experience.













Not Sure, Which car to buy?
Let us help you find the dream car

Are you Confused?
Ask anything & get answer లో {0}
జనాదరణ పొందిన car insurance companies
*ఎక్స్-షోరూమ్ న్యూ ఢిల్లీ లో ధర
×
We need your సిటీ to customize your experience