మారుతి విటారా బ్రెజావినియోగదారు సమీక్షలు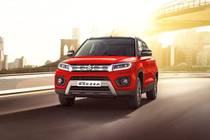 291 సమీక్షలు
Rs.7.61 - 11.19 లక్షలు*
*ఎక్స్-షోరూమ్ ధర న్యూ ఢిల్లీ
మారుతి విటారా బ్రెజా ధర వినియోగదారు సమీక్షలు
అన్ని (291)
Mileage (88)
Performance (52)
Looks (78)
Comfort (90)
Engine (55)
Interior (43)
Power (29)
Price (30)
మరిన్ని...
After expensive research across all compact SUVs cars, I zeroed in on the 2021 Brezza model LXI ( Blue color). I fully accessorized the car (also with a painted black roof) by paying just 90 k extra with genuine MGA accessories. So for under 9.5 lac ex-showroom in Mumbai, I got a car with almost all ZXI plus model accessories which is a steal. Wher...ఇంకా చదవండి

Good experience, the price was low, high resale value, but have to build more safety and security of cars. Let's see what happens after 1 year

I bought the Brezza in 2017, the car at this price is quite a good deal as compared to Creta. Mahindra tried to beat the sale of Brezza with KUV100, but Brezza at such cost is the best option, low maintenance cost + average of 22 in the city.ఇంకా చదవండి

I exchanged my old Swift VXI on Car Dekho, for a good price with good service and bought Brezza LXI. The car is absolutely delightful. Safety is very good. Performance is exhilarating. Mileage is slightly better than my previous Swift. 3 people are more comfortable in the back seat. Since it offers good height, driving is not stressful. For just 16...ఇంకా చదవండి

Very interesting I love its comfort and Features I buy it because it gives a sporty look and very comfortable. Its price also not so high only 9 to 11 lakhs rupees which give us a package of lot features.ఇంకా చదవండి

Every part of this car got an update I most like safety, performance, mileage, price, colours, navigation connectivity.

It's good in price, comfort, style and suitable for anyone. I think the safety features can be updated a little bit more in this car.

Nice car I like the overall design, Best car you go for at this price point.

Good job and nice work on the hybrid engine. Good option of a petrol engine with less maintenance and low noise. Pricing will be a highlight as we can expect almost one lakh less as compared to the diesel engine.ఇంకా చదవండి

Vitara Breeza is one of the best cars among Maruti Suzuki. The price of the car is a bit lower and costs 10-12 lakhs. It gives a mileage of 20kmpl.

I really appreciate the design from the point of view of comfort, ride, value for money even performance. At one point it must be well appreciated that if we drive @ 70 KMPH speed, we get even better fuel efficiency than the one declared by the company. However, one thing I must say that if you buy this car, make sure that it does not meet with any...ఇంకా చదవండి

Its is very good in SUV segments. According to its price, it gives much better. I like its look, mileage, and comfortable quality. It is my sweet car ever now.

A good option for the middle class in the price of the hatchback. We can have good SUV type car mileage is little less according to Maruti standard but still, ok price is a plus point against all rivals, few features missing in the base variant, but still, Maruti give all four power windows in a base variant which we missing in previous LDI variant...ఇంకా చదవండి

Excellent mileage and very smooth in driving. Features in this car are best at that price. Interior is very safety. One of the best car of Maruti Suzuki company. Comparison with Hyundai Creta is very good than Creta.ఇంకా చదవండి

Suzuki has designed and put in each element of Breeze carefully to make it a fabulous as well as compatible SUV to the middle class. The main feature of Breeze is its accuracy and power delivery which is the best to get on an SUV priced below 10 lakhs. The steering is a bit heavy which gives the driver confidence and feel that he is driving an SUV.ఇంకా చదవండి

I have Brezza ZDI. If you compare this vehicle in this segment, no other vehicle compete for this in any mode like price, performance, appearance, mileage, maintenance cost, inside space, comfort etc. The best thing is hight and if you drive, you really enjoy.ఇంకా చదవండి

The car makes up a boost as that of a tiger.I made it run at a speed of around 180km/hr without any problem. I had a diesel version of it and I boosted up to the fullest and the car was so much comfortable and relaxing enough for long journies. The car gets an average of around 19km/l in city and 23km/l on highways. Great car at a very afforda...ఇంకా చదవండి

I brought a Brezza zdi in Nov 2019, I shortlisted this car merely for its looks and features offered at that price the buying experience was nice. I got the car in almost a week and till now I have driven for about 26000kms and here is the review. The performance is good but there is an issue, turbo lag occurs in lower rpm, in order ...ఇంకా చదవండి

Very fabulous, awesome looks. Nice interior. Affordable price. I just love this car. I bought it in 2016 and I am still enjoying the quality and comfort. It offers many models, colours and features in it.ఇంకా చదవండి

Drive smooth, off-roading hilly areas drive great. Feel like MUV sitting but only one prob interior is not good as the price has spent on it low-quality material even they don't provide touch.ఇంకా చదవండి

It has solidly built, assurance, good land clearance, easy to maintain, good looks, pretty less price for an SUV, good for family and long drives.

It is quite good and has a powerful performance with good mileage having good ground clearance with such an economical price range it is loaded with excellent features. Its rough and tough vehicle good for city drive and for some off-roading. ఇంకా చదవండి

The latest design of Vitara Brezza looks really amazing it is equipped with dual airbags, ABS with EBD. Maruti Suzuki's total effective control technology is strengthened by an impact absorbing structure to assure safety and reliable drive. The car is budget-friendly under a price bracket of 10lakh rupees and it now comes with a BS6 ...ఇంకా చదవండి

Bought this car two days back and this is really a good car in terms of everything except its price and sunroof. Price is really going to be concern for many people.ఇంకా చదవండి

A nice overall package in this price segment and a lot of cool and safety features standard from the base variant. But the company should not have to discontinue the diesel 1.3 engine of this car if this engine option was available then it would be a great deal for all the new costumers. So, I personally believe that in the future they should ...ఇంకా చదవండి

End of diesel may be a drawback, petrol may be low priced, interior need to premium compare to rivals, suspension noisy in dumpy roads, long journey in rear seats for three gets tough back paint. Seats should be wider, the engine feels similar to the Swift, riding a swift in SUV platform. Needs to improve features like airbags, rear ac ve...ఇంకా చదవండి

Maruti Vitara Brezza is the best mini SUV and it is very comfortable to drive. The price of the car is very affordable and the new petrol engine is superb, along with these new features of Maruti Vitara Brezza is amazing. ఇంకా చదవండి

Very good car in this effective price, mileage is ok but the features are best in class and the variants are very good, the engine is also powerful.

It's very nice looking car, petrol model of Breeza is very positive point of Maruti Suzuki, safety is also including in this, it's good car, we are waiting for car launching, and we are very excited for buy this petrol model of Maruti Vitara Breeza, its model is better than ago models, and its price is very cool.ఇంకా చదవండి













Not Sure, Which car to buy?
Let us help you find the dream car
విటారా బ్రెజా ప్రత్యామ్నాయాలు యొక్క వినియోగదారుని సమీక్షలు
*ఎక్స్-షోరూమ్ న్యూ ఢిల్లీ లో ధర
వినియోగదారులు కూడా చూశారు

Are you Confused?
Ask anything & get answer లో {0}
2 ఆఫర్లు
మారుతి Vitara Brezza :- Saving అప్ to Rs... పై
few hours left
ట్రెండింగ్ మారుతి కార్లు
ఆల్టో 2022

Rs.3.50 లక్షలు*

అంచనా ప్రారంభం: ఫిబ్రవరి 18, 2022

futuro-e

Rs.15.00 లక్షలు*

అంచనా ప్రారంభం: ఫిబ్రవరి 10, 2022

సొలియో

Rs.6.00 లక్షలు*

అంచనా ప్రారంభం: ఫిబ్రవరి 22, 2022
జనాదరణ పొందిన car insurance companies