Storme - The Great Indian Ranger
Storme - The Great Indian Ranger
If you want to have a stylish SUV at an affordable price, then you have Tata Safari Storme. Stands and moves like a stallion, the beast attracts everyone's eyes on the road due to its styling and nice exterior look. I bought the Storme in the end 2013, used in Coonoor till mid-2015 and using it in Bhubaneswar. My family with a little pug had all the comforts in travelling in this car and never felt road sickness on long travels and in fact, it was enjoyable all the time. Ride quality is on par with any other foreign SUVs. In fact, I would say that it is better due it's high ground clearance and robust shock absorbers. Driving is a pleasure and never felt that I am driving a big car. I got average mileage varying according to the terrain ranging from 11 to 18 km per litre of diesel. My use of the car was limited and therefore the cost of maintenance did not hurt me till now. Engine and gearbox are much better than the previous model and steering response are fairly adequate to handle Indian traffic efficiently. If you treat your car nicely with proper driving habits, it saves a lot in maintenance and my car never hurts me. Touch wood. Boarding the car becomes little hard for the elders due to its high cabin position and the interior features are very basic probably due to cost constraints. Storme is a real value for money and SUV lovers can confidently go for it. Congratulations to the makers of the Great Indian Ranger -Tata Safari Storme.
Write your Comment on టాటా సఫారి storme
టాటా సఫారి storme వినియోగదారు సమీక్షలు
ఆధారంగా
164 వినియోగదారు సమీక్షలు
All (164)
Mileage (45)
Performance (16)
Looks (58)
Comfort (79)
Engine (29)
Interior (27)
Power (28)
More ...
తాజా
ఉపయోగం
VERIFIED
CRITICAL
I loved my Safari, this is specious, big height, big view all side, best car for a long drive, VIP Car.

The mind-blowing car my dream car thank you, Tata, for this amazing SUV. I would purchase Safari Strome 4*4 as early as possible.

Safari is good and safe than others as Scorpio etc. I like this because it's VIP. I suggest If anyone wants to buy a VIP car then go for a Safari.

Tata Safari is very beautiful and very powerful for long-term profitable comfort that makes the journey beautiful.

TATA's proper Suv STROME.The VX 4×2 Strome offering 6-speed manual transmission with 2.2ltr 2200 CC varicor engine which producing 158 bhp and 400nm torque this engine is...ఇంకా చదవండి

Awesome cars and it has comfortable seats and look is very fabulous, but it is costly and maintenance is medium. I think it is a very good opportunity for the middle clas...ఇంకా చదవండి

అన్ని సఫారి storme సమీక్షలు చూడండి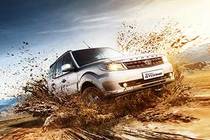 ఈ కారు మోడల్ గడువు ముగిసింది
వినియోగదారులు కూడా వీక్షించారు