Honda City: A Perfect Family Car
Honda City: A Perfect Family Car
A few years ago, if you were in the market for an efficient family sedan, an automatic variant would most likely not make it to your wish list. Because ATs back then were considered too expensive to buy and maintain and were known to drain the fuel tank faster than a manual car. Plus, they weren't too involving to drive and were lethargic when it came to outright performance. But increasingly wretched traffic and the urge to opt for an easy-to-drive sedan have been bringing buyers back into showrooms looking for a comfortable automatic sedan. And it's not just the premium segments the C-segment to has started offering a variety of options. One of them being the new Honda City i-VTEC automatic. Torchbearer of automatic sedans in India, and now in its fourth generation, the City is available with a newly developed CVT that is part of Honda's Earth Dreams Technology. Honda claims its new CVT is more responsive and fuel efficient than the previous-gen CVT or the 5-speed AT. In fact, the official word is that it's more efficient than even the manual variant, which returns 17.8kpl, compared to the CVT's 17.9kpl. Honda's new City CVT now gets a torque converter along with the usual pulleys-and-belts business. It replaces the old dual-clutch box, which was marred by sluggish acceleration and felt too strained up the rev band. And via various other advancements, Honda has made the new CVT lighter by 10 per cent. So, does this change the way the new City drives? It sure does. Powered by an updated 1.5-litre i-VTEC petrol motor churning out 117bhp and 145Nm, the City AT takes off in a rather surprising manner. The initial hesitation and jerkiness of a typical dual-clutch CVT has been sorted with the use of a torque converter, which results in prompt acceleration from the word go. Driving in urban conditions is convenient and the City AT responds well to part throttle inputs as well. Even on open stretches of tarmac, where you feel the urge to charge down the straight line, the new transmission takes good care of your need for speed. However, it's only when you need sudden acceleration, say, when you need to slot yourself into a fast-filling gap the CVT disappoints, to an extent. A shove of the throttle pedal quickly propels the rpm needle to its 6,700 redline, but then the engine gets loud ? No, make that really loud, without any corresponding increase in speed. Apart from Drive mode, you also get Sport and paddle shifters that should make life easier in tricky situations. That said, overtaking, or sudden bursts of power, don?t come easy and you do need to plan your moves in advance. The rest of the car remains identical to its manual counterpart. As a package, the new City i-VTEC CVT is a good improvement over the earlier model. It comes with Honda's reliability and strong after-sales, and the CVT promises to be efficient this time around. It scores well on the ride and handling too. If there was one quibble to report, that would be top-end performance. If you can live with that, the new City CVT will prove to be a great choice for both, urban and highway use. The numbers 4cyl, 1,497cc, petrol, 117bhp, 145Nm, CVT, FWD, 1,085kg, 17.9kpl (claimed), boot space: 510 litres, fuel tank: 40 litres, Rs 9.49 - 10.98 lakh (ex-Delhi) The verdict The new CVT box is definitely smoother and quicker than before. It's easy to live with, and efficient too (says, Honda).
హోండా సిటీ 2015-2017 వినియోగదారు సమీక్షలు
ఆధారంగా
55 వినియోగదారు సమీక్షలు
అన్ని (55)
Mileage (30)
Performance (20)
Looks (42)
Comfort (41)
Engine (35)
Interior (30)
Power (22)
More ...
After driving it for 5 years, I can proudly say that Honda CITY deserves to be at the top in the SEDAN segment with the price range it offers. Weather you want to drive i...ఇంకా చదవండి

A few years ago, if you were in the market for an efficient family sedan, an automatic variant would most likely not make it to your wish list. Because ATs back then were...ఇంకా చదవండి

Honda city is one of the best and reliable car on the Indian roads. Smooth drive, Good after-sales support, good looks and excellent resale value is one of the main point...ఇంకా చదవండి

Hi all, I am proud of owner of Honda City which has been with me for 2 years now. I must say it is a reliable car and it still feels new. The car is daily travelling to G...ఇంకా చదవండి

If you take a little stroll in the past, Honda City is the only one car which has served as an icon of luxury and comfort for the Indian middle-class families. People hav...ఇంకా చదవండి

It is a great car both by style, comfort and best customer support. Probably the best car in the budget with paddle shifter, Cruise control, Sunroof and powerful CVT engi...ఇంకా చదవండి

The engine is well tuned and offers good low down performance and the turbo lag is well contained, steering wheel is nice to hold and buttons on steering are easily acces...ఇంకా చదవండి

I have purchased a pre-owned Silver color honda city. Its a great car. The driving pleasure is amazing.I was initially very skeptical in buying a pre-owned car. But after...ఇంకా చదవండి

అన్ని సిటీ 2015-2017 సమీక్షలు చూడండి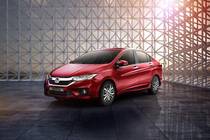 Rs.8.11 లక్ష - 12.43 లక్ష*
ఈ కారు మోడల్ గడువు ముగిసింది
వినియోగదారులు కూడా వీక్షించారు
Write your Comment on హోండా సిటీ 2015-2017
జనాదరణ పొందిన car insurance companies
×
We need your సిటీ to customize your experience