Unbelievable Stories యొక్క Our కొత్త Guest.
Unbelievable Stories Of Our New Guest.
Unlike many people, I love car shopping, and even more rare, I love haggling and negotiating for the best price. Even when buying from a private owner, I will haggle. If they won't negotiate, I won't buy. If you negotiate correctly, you can be confident that you received a better deal than at a dealership that advertises no-haggle pricing.? The concept is a scam. They simply lower the price slightly from the MSRP and don't negotiate any further. Someone who is even a little bit good at negotiating will get a better price at a traditional dealership. That said, this is my step by step of buying a new car: I decide what type of vehicle will best suit my needs. For me, it is generally a pickup truck due to the extreme weather where I live and the places I need to go. I do some preliminary research and narrow down my choices to the makes and models that interest me. Usually, it ends up being a short list of 3 or 4 models. I go to the nearest dealerships for each make and model on the short list. At each one, I will look over and test drive each vehicle on the list. I absolutely will not make a purchase at this point, no matter how much pressure they salesperson applies. This is vital. Buying at this stage is almost guaranteed to get a worse deal that can be achieved. Once I have driven all of the models on my short list, I narrow it down to 2. I do extensive research on both vehicles. I learn as much as I can about them. Engine size, gear ratio, horsepower, torque, and so on. I even learn the advertised fuel economy rating (even though this is always the biggest lie they will tell you. Cars never get anywhere close to the advertised MPG. If anyone tells you that they are achieving it, they are either lying to you or diluted and lying to themselves.) I read consumer reports, and various other reviews. I learn the most common problems experienced by owners of both models. I basically become an expert on both vehicles. (it is always in your best interest to know more than the salesperson about the vehicle you're buying as it becomes a great negotiating tool.) I pick one of the two models to buy. I go onto the manufacturer's website. Nearly all of them will have a build and price option. From there, I choose the exact model, options, and colour I want. In the end, it gives you the option to request a quote. It often defaults to the nearest dealership to you, but you can change it if you like. I send the request to the dealership, then go back. On separate browser or a separate tab, I look up all the dealerships selling that model in a radius of several hundred miles. I will then go down the list, sending the request to them all, one at a time. (they used to let you send it to multiple dealers at the same time, but have long since taken that option out. The next step is to wait. Emails and phone calls will start to pour in over the next couple days. There will be a lot and I will start to eliminate them. The first to go are any that are giving me quotes on a car that does not match what I put into the original build and price (eg. different options, different colour, etc). Once those are gone, I eliminate all but 4 or five with the best price. Now that I have it down to a handful of dealerships, I will call each of the salespeople who responded in turn and play them off each other. Start with the highest price of the few remaining. If they beat the price, they stay in the running, if they don't they are out. Keep going down the list until you have made it through them all. Then start over with any still remaining, trying to get them to beat the current lowest offer you have. Once you have an offer that no one else will beat, you know you have the best possible price. I go to the winning dealership, finalize the deal, and drive my new vehicle home, knowing that I go the exact car I wanted for the best possible price. It is quite exhilarating and satisfying. That is how I buy a new car and it is exactly how I want it to be. I don?t want to by a car at a no haggle price because I know that I will be paying more than I need to. Before the internet became what it is now, I used to do essentially the same thing, though it required more driving around and a lot more time spent on the phone.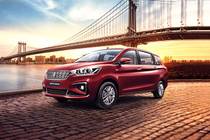 Rs. 7.59 - 10.13 లక్ష *
*ఎక్స్-షోరూమ్ ధర in
న్యూ ఢిల్లీ
Rs.
8,34,000
*
ఈఎంఐ:

Rs.

17,800
19.01 కే ఎం పి ఎల్
మాన్యువల్