ఓన్ యొక్క the best కార్ల లో {0}
One of the best car in low budget
Look and Style - I bought the Creta 1.4 litre CRDi and feels like the company has done complete justice with Fluidic 2.0 design. As far as design and looks are concerned, it is far away from any of the vehicles in the segment. Comfort - The Creta offers complete driving comfort, best for long drives and journeys. The material used in the Creta brings the feeling of safety to the passengers. We all know about the accident occurred after its launch, which clearly shows that how Creta has taken the impact perfectly by not getting much damage to the vehicle. Even space is good and the seating is spacious too. It is just 40 mm smaller than Renault Duster in Length and 42mm in width and 65 mm in height. Pickup - The performance and handling of the car are good. I had driven the car on highways as well as in city and on my village roads. It was a surprise that I didn't find any difficulty with the pickup of the car. In 3rd gear, the pickup torque takes few seconds to kicks in, but once the power kicks in, there is no one to beat this car. Best for taking overtakes and shortcuts. Mileage - I had driven the car for 250 km now and the mileage in this diesel variant is up to the mark as described by Hyundai. I always calculate the mileage on every trip whether it is diesel car or petrol car and even on my bike. Yes, it is a thumb up for the mileage. It brings out the mileage of around 21 kmpl as per my experience with the Creta. Best Features - There are many features in comparison with CSUVs in this segment. Eg: Like Rear AC Vent, 2 Din Audio System with CD Player,USB, AUX and four digital speakers, which provides good sound for music lovers. All 4 power windows from the base model itself, whereas base model of Duster has front two doors power windows and handles in the rear doors. It also comes with 6 Speed MT whereas Duster comes with 5 speed MT. It is also equipped with ABS and EBD in the base variant. Needs to improve - The price is slightly high as compared to the CSUV in this segment. The price of Creta is more than Renault Duster but less than Terrano. The company completely justify the price with the features offered. Overall Experience - Yes of course, the Creta 's life is very good and surely is a game changer. It is truly a "Perfect SUV".
Write your Comment on హ్యుందాయ్ క్రెటా 2015-2020
హ్యుందాయ్ క్రెటా 2015-2020 వినియోగదారు సమీక్షలు
ఆధారంగా
1684 వినియోగదారు సమీక్షలు
All (1685)
Mileage (302)
Performance (233)
Looks (446)
Comfort (556)
Engine (224)
Interior (221)
Power (240)
More ...
తాజా
ఉపయోగం
VERIFIED
CRITICAL
In mid-segment SUV, it is a dream car with all feature in its class. Its features are unmatched at this price.

Hyundai Creta is one of my favorite cars as it is in suitable range according to a middle-class man and it doesn't want high maintenance it is very comfortable and secure...ఇంకా చదవండి

Excellent car on look and features is awesome but bit expensive if it's a bit lower have more sales 

This is a value for money car. And the top model of Creta gives the luxury feel it is a very good car, best SUV i have ever seen in my life i am going to buy it very soon...ఇంకా చదవండి

Big car. nice space .nice body .excellent car and modification is another car is best. best mileage, best pickup.

Great car, a small family I happy to use this car. I hope you are happy. Buy the car and go a long drive.

Very comfortable for long journeys and in cities perfect SUV for cities and traveling and have a luxurious feel

అన్ని క్రెటా 2015-2020 సమీక్షలు చూడండి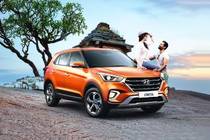 Rs. 9.15 లక్ష - 15.72 లక్ష*
ఈ కారు మోడల్ గడువు ముగిసింది
వినియోగదారులు కూడా వీక్షించారు
ట్రెండింగ్ హ్యుందాయ్ కార్లు
జనాదరణ పొందిన car insurance companies