Chevy Beat, a value for money car, best for city driving
Chevy Beat, a value for money car, best for city driving
Got my Chevrolet Beat LT Petrol in March-2015. It's been almost 2 years stint with the car and I am glad about making a decision to purchase this car provided it's not that famous despite having all that it takes to be a popular car. Well, I'll be honest here while reviewing Chevrolet Beat LT Petrol. It is good in most aspects but not in all. But first and foremost, why I bought LT petrol and not diesel? My tastes and requirements are very singular and the feature I wanted from my car was "As I put down the accelerator, It should deliver me the pure power it has got. No holding back." Diesel being an 849 cc engine can't do much in this regard, apart from giving a soft touch to your pocket. Starting with the pros first:1. Great look, stand out in the crowd. 2. 1.2-liter peppy petrol engine. 3. Good handling and maneuver. 4. The spacious cabin doesn't feel like you are driving a hatch. 5. Good features like auto climate control, Aux in, all power windows, child lock etc. 6. Cheap(relatively) service and maintenance. 7. Silent cabin, won't hear the engine at all. 8. Silent Engine(relatively). 9. Good air conditioning. Explanation - 1. The one thing that Beat beats all and stands out in its segment is that great bold look it displays with a range of flamboyant colors. I can truly connect with the car by just looking at it. It's like I'm looking at my image in form of a car. Headlamps are good and have nice focus with adjustable projection. Similar is the case with the tail lamps. 2. The 1.2-liter petrol engine has all it takes to make it suitable for city driving. Great acceleration, nice handling. Engine performance in case of A.C on 4th level is a bit low compared to with no A.C. on. Have driven the car on the hills of Matheran and it performed really well. 3. Beat offers a good handling and maneuvering capability in crowded places and on traffic signals. With the aid of 1.2-liter engine, it can beat any traffic in the city. 4. It is a small car, nobody can deny that it has a small boot and rear seating space but in the Driver's seat, it is a whole new story. The cabin in the front row doesn't feel like a hatch car but is spacious. The visibility from the cabin is also good. 5. Nice and handy features provided by Chevrolet. Auto climate control, fog lamps, all power windows, child lock, boot light, number plate light, steering column adjustment, child lock and much more. 6. The service is relatively cheap but you should be cognizant of the fact that not every dealer or service center serves equally. Make a good choice over that. 7. The cabin is very silent and you won't hear the engine at all while driving the car (only if you won't rev up much). 8. The engine is also silent in idle mode, won;t hear much from it. 9. Air conditioning is good but not excellent, have seen better conditioning in other hatches. Hyundai Eon for that matter has excellent cooling. One more thing, the gears are small and short, delivers quick torque, ideal for city drive. Don't push above 110 kph on highways. Now the cons, 1. Disappointed with the build quality, should have been better. 2. The car is a bit shaky on uneven roads. 3. Personally, I think tires are a must upgrade. 4. A.C. does affect the power delivery. Explanation - 1. Not happy with the build quality of the car, chevy can definitely do better in this regard. The bonnet, roof, and sides are made of thin steel sheets which can't sustain much. On the other hand, the doors(including boot) are made of good quality sturdy steel which feels safe. 2. On uneven roads, the car is a bit shaky and you can feel each and every pothole on the road to the cabin. Always have to take care while dealing with potholes, many cars can go undeterred over those but not Beat. Sorry. 3. Most important, the tires which came from a company are intended to give you good mileage in city and highway but it surely doesn't give you the best ride quality. The tires I suggest are a must upgrade. 4. Yes, A.C. does affect the performance of the car but not much. It's still manageable and when you need power just lower down the A.C. Some insight, with A.C on it can pick up from 2nd gear as well, so you can guess the rest. Final Words - A good car, value for money, shortcomings are basically due to the budget. Can't provide everything in Beat's price tag.
Write your Comment on చేవ్రొలెట్ బీట్
1
J
jyoti prakash pradhan
Jan 19, 2021 7:37:21 PM
What is the actual mileage you get from petrol engine.
సమాధానం
1
B
brijesh sahu
Oct 18, 2017 1:57:48 PM
NICE CAR BUT PARTS NOT ABLE
సమాధానం
చేవ్రొలెట్ బీట్ వినియోగదారు సమీక్షలు
ఆధారంగా
243 వినియోగదారు సమీక్షలు
అన్ని (243)
Mileage (145)
Performance (45)
Looks (175)
Comfort (142)
Engine (77)
Interior (69)
Power (64)
More ...
తాజా
ఉపయోగం
VERIFIED
CRITICAL
Within a short budget I choose this car. It gave me wonderful mileage. Not very comfortable at the rear seat but with 60:40 split option even in the lower models it gave ...ఇంకా చదవండి

I have BEAT Diesel car and it crossed almost 75000 KM running , But now I have started facing lot of problem 1] Engine is consuming oil , I have to replace it every 5000 ...ఇంకా చదవండి

I have purchased Chevrolet beat Diesel model LT in Feb 2013, the car is really nice and compact still four persons can easily travel in this car rear seats are also havin...ఇంకా చదవండి

Our family has always been inclined towards buying Maruti. But I had to buy a diesel car with low budget. Decided to go for Beat LS diesel model. I must say am really imp...ఇంకా చదవండి

I am using Chevrolet beat from past 4 years and was getting it serviced from Bosch service center. Don't know why I got my last service done from Chevrolet dealer on 31st...ఇంకా చదవండి

I bought beat base model before 2 year in 2016 sep (4.80) with front power window steering very smooth good space, can sit 5 people easily mileage 20 in city with A.c and...ఇంకా చదవండి

Purchased in 2010 July, the car has been excellent mate in terms of a single-handed drive. Its been a true companion on highway driving, in 42 degrees temp of Gujarat, wh...ఇంకా చదవండి

Its the 4th year - perfect hatchback for Indian traffic. Amazing size, powerful engine, best suits for a small family with terrific mileage as promised by the company ( v...ఇంకా చదవండి

అన్ని బీట్ సమీక్షలు చూడండి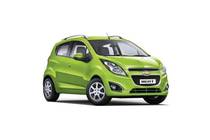 Rs.4.32 లక్ష - 6.57 లక్ష*
ఈ కారు మోడల్ గడువు ముగిసింది
వినియోగదారులు కూడా వీక్షించారు
జనాదరణ పొందిన car insurance companies