ఉత్తమ కార్ల లో {0}
Best car in this segment
I have searched in CarDekho and gone for a test drive for lots of cars. Finally after 1year of search got this beauty. Got Volkswagen Ameo Highline plus diesel white@10L on Road price after discounts on July 22 2018. Its better to get extended warranty upto 5years at the time you buy your car. I have driven 15500km went for service at 15000km as per company advice. Service is good and taking care of our car as I stayed for nearly 3hrs in the showroom during service. Similar segment cars - Swift DZire, Figo Aspire, Amaze, Accent, Bolt Pros: 1. Vehicle build quality - You can check the weight of the car with similar cars of this segment. 2. Features - At top end you get cruise control, 16inch Alloy wheels as extra than similar segment cars. 3. Kilometer - City you get 17-18km/litr, Highway you get upto 25km/liter if you drive at 90-110km/hr speed. 4. Driving comfort - No other cars in this segment might give you this much luxury and comfort to drive. 5. Handling - Easy to handle even if this is your 1st car. At 140km/hr you can drive with single hand on steering. No other cars at this segment might get this much easy handling. 6. Safety - I was driving at 140km/hr speed suddenly a cow came in between I applied brakes and without any jerk, it stopped suddenly. Inside the car there is no sudden impact. My family were safe. I suggest always use seatbelts. Cons: 1. Front seat is adjustable and its good bt Back seat space between legroom is quite lagging. Bt its ok for the family of four. If you have 5 people in the family go for higher segment cars. 2. Service cost is quite high compared with all cars of this segment. Service cost is 12600/- incl Gst. Overall I am very satisfied because other cars service cost is around 6500/service for every 10000kms. In VW Ameo its 12600/service for every 15000kms. Calculation for Service costs compared with VW Ameo. 2*15000=30000km service cost is 2*12500=25000 Other cars service cost calculation. 3*10000=30000km service cost is 3*6500=19500. Difference is 5500rs only so its quite good to go for this car. Go for this car without any second thoughts.
Write your Comment on వోక్స్వాగన్ అమియో
వోక్స్వాగన్ అమియో వినియోగదారు సమీక్షలు
ఆధారంగా
209 వినియోగదారు సమీక్షలు
All (209)
Mileage (42)
Performance (37)
Looks (51)
Comfort (56)
Engine (62)
Interior (31)
Power (46)
More ...
తాజా
ఉపయోగం
VERIFIED
CRITICAL
Nice 1.2 petrol engine, smooth performance. Very good car for self-driving. Milage16 Kms average on the highway with AC. Very smooth in city driving. Confidence level is ...ఇంకా చదవండి

It's a very good family car. All controls including a stereo system control are on the steering. It has 1.5 CC engine with better mileage.

I use this car for 3year's very nice and good performance and no maintenance. I like it as like new after 3 years plus.

Volkswagen Ameo  has super build up . Features of this care are amazing ....Really love this car ..

Best car in the segment , great engine, good performance and also the mileage is good. Awesome built quality.i have driven this car till the top speed of 198 kmph no prob...ఇంకా చదవండి

The vehicle is great with excellent driving experience as well as with great safety, The Only con is rear leg space is less.

అన్ని అమియో సమీక్షలు చూడండి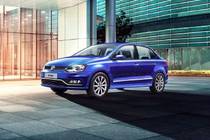 Rs. 5.32 లక్ష - 9.99 లక్ష*
ఈ కారు మోడల్ గడువు ముగిసింది
వినియోగదారులు కూడా వీక్షించారు
ట్రెండింగ్ వోక్స్వాగన్ కార్లు
జనాదరణ పొందిన car insurance companies