Value కోసం money with Robust Structure
Value for money with Robust Structure
Exterior, Though it resembles with Vista, it is a completely new product. The Vista platform gives it a much-needed cabin space so it's just a perception that car looks like Vista so its a taxi. It is better looking than a few of its competition and its sad to see that the critics also see the resemblance as a downside. Further, the new taxi cars on the roads today are Accent, Swift, and Liva so this perception should not bother anyone now. Interior: (Features, Space & Comfort) Superbly spacious. Rear seats are blessing for a family of five. Legroom is exceptionally great and it provides a superior comfort compared to swift (i have driven swift a lot of times). Engine Performance, Fuel Economy and Gearbox Engine is a great piece of engineering, multidrive modes actually work and the shift in power is instantly evident (no other car in this price range gives such a great feature). Fuel economy is quite good I am getting around 14 KMPL in city and around 19 on Highway. If you drive this car sensibly it may give even more mileage. Gearbox is smooth but has little vibration which is an area of improvement but this can be ignored. Ride Quality & Handling Ride quality is very good. This car is confident at high speeds, unlike swift which starts wobbling when pushed hard. Also, it manages Indian roads really well as it is heavier than swift and suspension is on the harder side, it sometimes feels as sturdy as an SUV. Final Words If safety is your priority then don't go by perceptions of others - It is a great car and xms version gives the most value for money as u get all safety features in around 5.50 lacs whereas for Hyundai and Maruti one needs to pay around 6.50 lacs for safety features. Areas of improvement TATA please provide some bottle holders in door pockets (although space provided under co-passenger seat and huge glove box can accommodate 4-5 one-liter bottle but it's still not that comfortable as we have only one designated bottle holder in the car).
Write your Comment on టాటా బోల్ట్
టాటా బోల్ట్ వినియోగదారు సమీక్షలు
ఆధారంగా
87 వినియోగదారు సమీక్షలు
All (51)
Mileage (26)
Performance (11)
Looks (24)
Comfort (26)
Engine (19)
Interior (12)
Power (15)
More ...
తాజా
ఉపయోగం
VERIFIED
CRITICAL
Tata Bolt XE diesel Pros: Speed, Steering, Legroom, AC, service cost (maintenance). Cons: No space for water bottle, Engine sound,door noise, suspension. Door injection...ఇంకా చదవండి

Tata Bolt is the best value plus car is well maintained and all service done in tata authorized service station. Awesome road grip. Great music experience. Reverse parkin...ఇంకా చదవండి

I drive it from Indore to McLeod Ganj, Indore to Yamunotri, Indore to Somnath and Dwarka with family without any problem. It is a comfortable and secure car.

Tata Bolt is the best car in India with the best pickup, mileage, and safety. It's my favorite car. It's gifted by my mom.

Tata Bolt is more spacious compared to all other hatchbacks. Comfortable driving Interior and steering look very rich like Benz. I reached the mileage up to 17.2 km/l pet...ఇంకా చదవండి

We good vehicle for Indian roads good mileage, good condition, and very good inner space nice body.

This is a very good car in the segment. The looks are impressive. It is a spacious car. The engine is really powerful. 

Tata Bolt is good for pick up, very good for a ride, enjoyable ride with comfort, affordable in the economy, best with the body quality, classy in looks, easy with contro...ఇంకా చదవండి

అన్ని బోల్ట్ సమీక్షలు చూడండి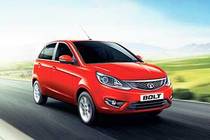 Rs. 5.29 లక్ష - 7.87 లక్ష*
ఈ కారు మోడల్ గడువు ముగిసింది
వినియోగదారులు కూడా వీక్షించారు
జనాదరణ పొందిన car insurance companies