స్కోడా రాపిడ్ 1.6 MPI Ambition- Class within budget.
Skoda Rapid 1.6 MPI Ambition- Class within budget.
With a budget of just around 10 lakhs for a sedan and quite a few options I narrowed my list to : Maruti Ciaz, Hyundai Verna,Skoda Rapid, Vento, and Honday City. The Honda was a little out of budget, the ciaz too big with very less power and the verna, I personally did not like the flimsy electronic steering wheel. Final Call the Skoda rapid. Why the rapid well, read on. When you hear the name Skoda, you know you're going to get three things, Luxury, performance and competitive pricing. As soon as you step inside the rapid she welcomes you with plush interiors, good leg room, good seats and weirdly enough a feel good feeling. Getting straight into the drivers seat, unlike other cars that I drove and tested, this one gave me instant confidence of the road ahead. At just around with 9.89Lakh with some offers involved very excitingly we got the Skoda Rapid 1.6. Bought in mid July 2016, our baby has just clocked in 11000kms so far. Although the Rapid is just a vento with a different hood I still preferred the rapid over it since the rapid has a more pleasing design with more curves which I perfer over just simple classic straight lines in a car. Also the Rapid gave me a more 'upper market feel' . 'Driving on, below are my opinions on driving in the City and driving on the highway. City Driving: Steers well in the city and parking is very easy with this one. Gear shifting is needed quite often in bumper to bumper traffic since its power band is in the mid range. The clutch feels a tad bit hard compared to the other petrol cars I have driven and tested but for me it still is butter smooth since previously I was driving a Logan which has a history of hard clutches. The rapid gives me a mileage just around 9.5-10kmpl in Mumbai city even with hardcore traffic which is a bit low but hey with great power comes less mileage I guess. Highway Driving: Have done quite a few trips from Mumbai-Pune and Mumbai-Goa , driving this car on the highway is really where this car shines. Having the power in the mid range keeps you cruising comfortably and also helps shooting the car into a sprint when you are about to overtake a few high speeders. The MacPherson Strut setup of the suspension helps take in most of the bumps and gives a decent and very less tiring journey compared to some of the other cars I have driven in the past. Coming to the braking , one can feel the abs kicking in as soon as you do some hard braking on high speeds, effective nonetheless. Although the engine is quite refined but when you have a fully loaded car with 4 members and a 460 litre boot completely filled with luggage, Climbing steep slopes on the mountains gets a bit heavy for the car. The engine starts to grunt quite a bit and the noise in the cabin suddenly goes up. But hey coming from driving a diesel car for so many years and suddenly coming back to a petrol I guess I miss the torque that is readily available at lower power bands. I get a mileage of around 15-17kmpl on the highway which is pretty decent. With mostly my car running in the city and with some occasional highway driving, the Rapid serves its purpose and with full zest. In my opinion The Rapid is a great value for money car and a total recommended buy.
స్కోడా రాపిడ్ వినియోగదారు సమీక్షలు
ఆధారంగా
295 వినియోగదారు సమీక్షలు
అన్ని (295)
Mileage (94)
Performance (64)
Looks (85)
Comfort (97)
Engine (74)
Interior (50)
Power (53)
More ...
తాజా
ఉపయోగం
VERIFIED
CRITICAL
Skoda Rapid remains identical to the previous model in terms of design and dimensions but has been styled to make it look a bit sportier. The Monte Carlo edition particul...ఇంకా చదవండి

It is a good experience with Skoda Rapid. Just I like this Skoda Rapid feature. It is also good looking. So I am happy with this car.

Very nice driving experience, or smooth driving. Low maintenance cost, or very good diesel engine and mileage.

Excellent and robust car. Gives good mileage on the highway. I bought it in mid-2021 and drove around 60km, This gives a comfortable ride and good mileage of around 22kmp...ఇంకా చదవండి

At this price, it's the first choice. Skoda provides all high-level quality in this car. Like safety, power, etc. Nobody beat you with other cars, like Hyundai Verna, Hon...ఇంకా చదవండి

Classy and Punchy. No vehicle in this segment can match the performance. It's a bit high maintenance as the spares are costly.

I have a 2016 diesel model. After 5 years of running, also it works like new and mileage is better than they say. On the highway, this car can give up to 25-26kmpl a...ఇంకా చదవండి

Super satisfied fun to drive with the safety of a tank, superb fuel efficiency and awesome styling.

అన్ని రాపిడ్ సమీక్షలు చూడండి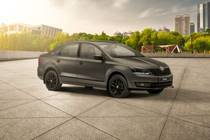 Rs.6.99 లక్ష - 13.49 లక్ష*
ఈ కారు మోడల్ గడువు ముగిసింది
వినియోగదారులు కూడా వీక్షించారు
Write your Comment on స్కోడా రాపిడ్
2 వ్యాఖ్యలు
1
c
chandan
Jul 13, 2018 9:54:15 AM
Well written article which explains heart felt feeling for your loved car in spite of certain things you don't like about it just like your own children. Buy I did not quite get to relate to the odd steering of Verna.I beleive Verna has goog grip on road and extremely powerful. I just ed wanted to know the maintenance cost on an average as compared to other cars.
Read More...
సమాధానం
Write a Reply
1
G
govardhan babu
Sep 2, 2017 2:52:54 PM
Need details of all the variants in RAPID Vs Octavia and features and pricing and EMI too.
Read More...
సమాధానం
Write a Reply
జనాదరణ పొందిన car insurance companies
×
We need your సిటీ to customize your experience