Worth కోసం your money
Worth for your money
Look and Style: Looks awsome from front & back, sides are exact replica of Sunny. very Stylish back Crome with Logo embosed. Very good aero dynamic shape. Comfort: Awsome space & very good interiors compared to Vento/Rapid & other India/Koren cars. The leg room in front & rear are outstanding. Space btwn drive & co-passenge is very good. Even if the front passenge & drive seats are completed pulled back, there is excellent space for your leg room. Pickup: Reasonably good pick-up, perhaps Vento is better in this segment as thats a 1.6. Mileage: I got this Diesel need to check further more as its only few days. Best Features: Overall has got features as this basic version comes with Alloy, Dual air-bags, ABS & EBS. Most of its competitors like Rapid/Vento/Sunny wont provide these. Besides Renualt is offering GPS, Reverse parking & few add-ups as part of package that attractive and makes worthy to tilt over from Sunny/Rapid/Vento as non provide these in their basic or middle versions. Only Manza new Club class somes with these mostly but no dual airbags. Needs to improve: Renualt having known the new market conditons and competition has launches this new variant, however the biggest drawbacks are No-Intigrated Bluetooth/GPS/USB are missing (provided with old CD player). Less options with colours to choose. Some good colours are available in Sunny & Rapid. Overall Experience: Fully satisfied with this car, me & my family are surprisingly wish to spend more time in car even if not driving. Best value for money. & Best of its class on comfort.
రెనాల్ట్ స్కేలా వినియోగదారు సమీక్షలు
ఆధారంగా
22 వినియోగదారు సమీక్షలు
అన్ని (22)
Mileage (18)
Performance (4)
Looks (20)
Comfort (20)
Engine (11)
Interior (5)
Power (3)
More ...
I have a top-end Diesel Scala and is driven by my family is a Tier 2 town. +ves Elegant Design : Scala has adorable cuts and curves - the French elements of design on the...ఇంకా చదవండి

The first thing that comes to my mind is its space and comfort while going for long drives. Bought this car on 2013, drove more than 90000 km still engine and perfor...ఇంకా చదవండి

Look and Style - Best in class style and looks, none of the other manufacturers can counter the aerodynamic design of this car. Comfort - Best seating comfort for 5 peopl...ఇంకా చదవండి

Renault Scala looks and style are quite satisfactory. Comfort : Even the comfort level is quite great and the cabin is spacious which no other sedan offers within t...ఇంకా చదవండి

Look and Style : Apperently the car is just Awesome in its look and very stylish. It makes people turn their head when passed through. Comfort: Very specious car. You won...ఇంకా చదవండి

Look and Style: It looks nice and pretty stylish. Front and rear view are so cool especially my pearl white gives a royal look in the night view. Comfort: Main reas...ఇంకా చదవండి

Look and Style : 9/10 Comfort : 10/10 Pickup : Better than average, not best in class. 7/10 Mileage : 18-20 in city, was able to get around 22 on highway on only highway ...ఇంకా చదవండి

Look and Style Excellent Comfort very comfortable Pickup Very good. Mileage 17 km/l with AC on Best Features city driving without accelration paddle. Needs to improve Giv...ఇంకా చదవండి

అన్ని స్కేలా సమీక్షలు చూడండి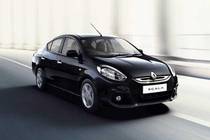 Rs.7.44 లక్ష - 10.61 లక్ష*
ఈ కారు మోడల్ గడువు ముగిసింది
వినియోగదారులు కూడా వీక్షించారు
Write your Comment on రెనాల్ట్ స్కేలా
3 వ్యాఖ్యలు
1
P
p k ghosh
Feb 25, 2013 2:38:28 PM
I am interested in customer feedback on Scala- Petrol ( Base version) after its use for min. 6 months in respect of its milage under city driving condition- Kolkata & location of service centres, if any, in south Kolkata along with other driving parameters. I also feel that its ground clearance is very less compared to its size & its turning radius is quite large. The choice of colours is also very limited.
Read More...
సమాధానం
Write a Reply
1
s
saju
Feb 14, 2013 7:00:03 AM
The scala Rxz is more than worth it's price in looks and comfort. It's black model beats the looks of even the scoda octavia and other high end similar cars. I am getting mileage of 19.5 with ac & 21.5 with non ac on highways , which is very good considering , the vehicle has run only 2300 kms till now and the first servicing is yet to be done.
Read More...
సమాధానం
Write a Reply
2
V
venkat
Feb 21, 2013 8:28:50 PM
Performance is Excellent so far. Drove overall 4800 from bangalore to Gao (1300km) and bangalore to Vizag (2200km) within 2months. It records at 23.3kpml at avg speeds 100kmph, 22kmpl avg in bangalore city with climatizer ON. The car is well balance and study & smooth. Only flaw i could notice its engine noice is higer compared to Maruti, beat, other foregin orgin cars. For the price in India we afford, getting a luxary car with almost all features covered, could not find a better bet.
Read More...
సమాధానం
Write a Reply
1
K
k.r thilagavathi
Jan 4, 2013 10:26:53 PM
i want to know about about it's performance
Read More...
సమాధానం
Write a Reply
ట్రెండింగ్ రెనాల్ట్ కార్లు
జనాదరణ పొందిన car insurance companies
×
We need your సిటీ to customize your experience