Be lodgyical
Be lodgyical
If a long vacation is around the corner, we all haste in finishing our mundane tasks to finally relish the freedom from work and responsibilities. You would not want to take your sedan as it has a boot but no space for people, not a hatch for sure as it can go fast but not practical. Enter the MPV class, a saviour for the middle-aged family lover, who likes to snug in with everyone once in a while. Renault, the ones who originally introduced the MPV type, is here with a brand new offering - The Lodgy. They are not directly targeting the Big Daddy of MPVs, Toyota Innova, but are sure to create a minor dent in its sales. It is the Honda Mobilio and Maruti Suzuki Ertiga against whom the Renault Lodgy will lock horns to be the most practical compact MPV available in India. Exterior :-The Renault Lodgy shares its design theme with the Duster as the voluptuous curves and flowing lines make it resemble the compact SUV to a great extent. There is no doubt that the Lodgy looks boxy with its flat lines and straight sections but Renault has tried to hide it with subtle detailing around the design.Instead of a in your face profile, it gets a rather smooth design on the front with petite headlights just around the front corners with a strong chrome line forming the hood lip joining both the headlights. The twin slat grille flows horizontally around the solid Renault logo placed at the centre. The front bumper gradually flows out from the headlight giving it a car like design. It also gets a two tone finish with the lower portion finished in matte also forming an air splitter and fog lamps housing. The chrome touch given all over looks decent. Interior :-The interior architecture of the Renault Lodgy looks familiar to the Duster. On the plus side, the trims look pleasant with a decent build quality. The plastics aren?t much about upmarket finish but at the same time it won't leave you complaining. What makes Renault confident about Lodgy's acceptance? They have studied the basic needs of the MPV seeker. The Honda Mobilio and Maruti Suzuki Ertiga are based on a hatchback platform and thus don?t do justice to the MPV tag, they are best suited to be station wagons or hatchbacks with more luggage space and practicality. The only MPV which stood against the competition, for more than a decade, is Toyota Innova The Renault Lodgy is a great attempt in making an attractive looking compact MPV. The interior quality is impressive and acceptable. In terms of comfort, it scores more than others in the competition. The amazing storage and boot space makes it a practical solution for a family. It has the underpinnings of Duster, which has already made its mark in the compact SUV segment. Both the diesel engines are highly promising and efficient. It gets dual airbags, ABS, EBD with brake assist and rear parking camera with sensors. The three pod instrumental cluster which was launched in the new gen Duster makes its way into the Lodgy with an analogue speedo and tachometer. It gets an information display screen on right which displays tripmeter, odometer and fuel left in digital format. The three spoke steering wheel offers good grip, has buttons to control the cruise control and speed limiter. As for operating the central infotainment and media options, there is a media rack nicely tucked on the column behind the steering wheel. Quirky it might appear but then it is useful. Being the top end RxZ version, it had the best of all features like media-navigation screen which also doubles up as a screen for manoeuvring in reverse and parking. It has a decent resolution and is user friendly. One can pair phones, listen to music via USB or Bluetooth and navigate using this screen.
రెనాల్ట్ లాడ్జీ వినియోగదారు సమీక్షలు
ఆధారంగా
73 వినియోగదారు సమీక్షలు
అన్ని (73)
Mileage (24)
Performance (14)
Looks (17)
Comfort (34)
Engine (19)
Interior (14)
Power (11)
More ...
తాజా
ఉపయోగం
VERIFIED
CRITICAL
I bought this car in 2016 and the vehicle has run 50000kms, after that it started giving trouble. There was a problem with dip and dim switch which cost 8000&nb...ఇంకా చదవండి

Renault Lodgy is the best car for the highway with good fuel efficiency. All the 8 seats of this MPV is very comfortable. None of the person seated in the car got ti...ఇంకా చదవండి

Bought Lodgy in the year 2015, the car was good and running well. I have done the services regularly too. Once the warranty given by Renault got over all faults started a...ఇంకా చదవండి

A comfortable luxurious sedan, big MPV, stylish SUV & economical like a small hatchback i.e., four cars feelings are combined in a single Lodgy. Out of 16 cars of var...ఇంకా చదవండి

Driven almost 50000 KMS. Excellent car both for city drive as well as highway. Great pick up due to 110BS and higher torque works wonders. Traveled for 1200 KMS with 7 ad...ఇంకా చదవండి

Lodgy is a good MPV and family car. Renault gives better mileage and nice features and good looks, good performance.

This is a good car. The seating is comfortable. The looks are stylish. The interior and exterior are amazing. The pick-up and engine are nice.

I have always rated the Renault Lodgy, highly as a product. When it came to desirability though, it lacked finesse and clearly is an MPV that prefers function over form. ...ఇంకా చదవండి

అన్ని లాడ్జీ సమీక్షలు చూడండి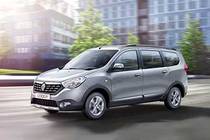 Rs.8.63 లక్ష - 12.29 లక్ష*
ఈ కారు మోడల్ గడువు ముగిసింది
వినియోగదారులు కూడా వీక్షించారు
Write your Comment on రెనాల్ట్ లాడ్జీ
38 వ్యాఖ్యలు
1
S
sudeep sanyal
May 18, 2017 11:41:39 PM
test drove the car; felt nice - the 110 PS - but could not gauge what would happen on bumpy roads. C. Edward's comments are illuminating since I was worrying about the ground clearance for such a long vehicle. I drove over smooth roads and found the response in terms of acceleration good. The drive was smooth for one used to a Xylo and I liked the upholstery. Ground clearance might be an issue
Read More...
సమాధానం
Write a Reply
1
r
ranjith
May 5, 2016 3:45:37 PM
Why renault lodgy people sell suddenly within 1 year.., Used cars market I can see lodgy is many..., Why? Why? Why?
Read More...
సమాధానం
Write a Reply
1
M
meraj hussain
Mar 8, 2016 1:23:45 PM
Maintenance
Read More...
సమాధానం
Write a Reply
ట్రెండింగ్ రెనాల్ట్ కార్లు
జనాదరణ పొందిన car insurance companies
×
We need your సిటీ to customize your experience