A desired family car!
A desired family car!
I am family man. Me, my wife, my two children and my parents, a big family of 6 members, big enough that we never felt a hatchback or a sedan an opt choice for a comfortable drive. So we decided to opt for a MUV for a better comfort and space. I owned kwid before marriage, thus I was little reluctant towards other brands. I inquired for an MUV in Renault's showroom and the Lodgy came in sight. It was a stepway edition displayed in grey. I was highly impressed. Further inquiries, finance options and I bought it on the occasion of Dusshera .Later in Diwali, me and my sweet family went out for holidays in our new lodgy. With a 21 kmpl diesel engine, lodgy is really a fuel efficient car. One of major issues in India's countryside is the speed-breakers and pot-holes present in every few meters of ride that necessarily demands a good ground clearance, which in case of lodgy is excellent. I bought lodgy mainly for comfort. Powerful AC's, leather covered adjustable seats, Rear Seat Headrest, Rear Seat Center Arm Rest makes journey much easier. Built in navigation system and cruise control tunes well to your drive, All-in-all a great family car!
Write your Comment on రెనాల్ట్ లాడ్జీ
1
P
push
Nov 22, 2017 6:57:31 AM
I have to travel 6 days a week where daily distance will be 250 km (125 + 125) on National Highway. So I am looking for 7 sitter car as I have to travel with my colleagues. Following are basic key points which I have to keep in mind to purchase my new 7 sitter car. Safety My Budget Comfort Mileage After my review related to the 7 sitter car I finalize Datsun Go Plus, Maruti Suzuki Ertiga and Renault Lodgy. But now confused that which one is good.
సమాధానం
రెనాల్ట్ లాడ్జీ వినియోగదారు సమీక్షలు
ఆధారంగా
96 వినియోగదారు సమీక్షలు
All (73)
Mileage (24)
Performance (14)
Looks (17)
Comfort (34)
Engine (19)
Interior (14)
Power (11)
More ...
తాజా
ఉపయోగం
VERIFIED
CRITICAL
I have always rated the Renault Lodgy, highly as a product. When it came to desirability though, it lacked finesse and clearly is an MPV that prefers function over form. ...ఇంకా చదవండి

Bought Lodgy in the year 2015, the car was good and running well. I have done the services regularly too. Once the warranty given by Renault got over all faults started a...ఇంకా చదవండి

The best car in the segment..good Mileage, handling, comfortable ride for 8 people...pick up is great even with full passenger load. Ground clearance bit lower for the ca...ఇంకా చదవండి

A comfortable luxurious sedan, big MPV, stylish SUV & economical like a small hatchback i.e., four cars feelings are combined in a single Lodgy. Out of 16 cars of various...ఇంకా చదవండి

Renault Lodgy is the best car for the highway with good fuel efficiency. All the 8 seats of this MPV is very comfortable. None of the person seated in the car got tired w...ఇంకా చదవండి

An excellent car I have ever seen and had a great experience for the last two years. A little expensive and the best mileage.

Driven almost 50000 KMS. Excellent car both for city drive as well as highway. Great pick up due to 110BS and higher torque works wonders. Traveled for 1200 KMS with 7 ad...ఇంకా చదవండి

Lodgy is a good MPV and family car. Renault gives better mileage and nice features and good looks, good performance.

అన్ని లాడ్జీ సమీక్షలు చూడండి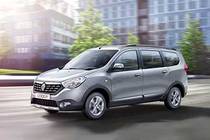 Rs. 8.63 లక్ష - 12.29 లక్ష*
ఈ కారు మోడల్ గడువు ముగిసింది
వినియోగదారులు కూడా వీక్షించారు
ట్రెండింగ్ రెనాల్ట్ కార్లు
జనాదరణ పొందిన car insurance companies