Headturner SUV with best Ground Clearence
Headturner SUV with best Ground Clearence
Pros: Ride, Handling & Comfort as you are driving a proper SUV with less maintenanceCons: Plastic Quality inside the cabin & Music System is outdated Detailed Review : Exterior Killing, an away ahead of Creta, can't even compare Interior (Features, Space & Comfort) Normal Features, Noting exiting but practical & easy to use, Space is sufficient for 5 passengers but Creta in these two is ahead not very far, but yes Creta.Only Thing I like is the new butterfly-shaped instrument cluster which will give the more upmarket feeling. But when it comes from Comfort Point of View, Yes it definitely way ahead of Creta, you can't feel even on the village Roads. Engine Performance, Fuel Economy and Gearbox Engine Performance is also Great in this Car as it has 110 bhp power in diesel & 106 bhp petrol which is very good in terms of overtaking. Fuel economy is also good (i.e.20.37) & better than duster (19.47) & Creta 1.6 Ltr Motor (19.67). Gearbox is also very easy to operate but the clutch is not very light. Ride Quality & Handling Ride Quality & Handing of this Car is awesome, you can't compare this type of Ride & Handing with any of its Car in this Segment & Build Quality is also excellent & way better than Duster or Creta & equivalent to Ford Ecosport. Final Words I can say this is an awesome car if Renault will cut down some price of this car can do wonders. Areas of improvement Interior plastics on the door & dashboard is not that great & Infotainment System is found in Kwid also, so that needs to be replaced soon.
Write your Comment on రెనాల్ట్ క్యాప్చర్
1
A
ab
Jul 17, 2018 4:52:50 PM
Music system is very bad like kwid to same & compared to other creata Mission parts is automatic & sonroof
సమాధానం
రెనాల్ట్ క్యాప్చర్ వినియోగదారు సమీక్షలు
ఆధారంగా
171 వినియోగదారు సమీక్షలు
All (144)
Mileage (24)
Performance (14)
Looks (43)
Comfort (50)
Engine (21)
Interior (26)
Power (17)
More ...
తాజా
ఉపయోగం
VERIFIED
CRITICAL
Renault Captur has great built quality, strong body, awesome suspension, clean interiors, classy audio quality with a marvelous infotainment system, smooth gear shifts an...ఇంకా చదవండి

I like it very much. It is very comfortable and stylish. Its mileage is so good. when we driving it feels like Range Rover.

I mate with an accident while driving my Renault Captur car. Truck dash me from the left side and drag up to a distance of 25 feet. My car was sandwiched between truck an...ఇంకా చదవండి

Renault Captur is a very nice car. It's back look is very beautiful. And it's logo also very nice. It's back LED light gives an amazing look to the body. As compared to l...ఇంకా చదవండి

Really good in the segment. Good price range and value for money. Petrol I am getting 8 L/KM in the Bangalore traffic.

Brilliant ride quality, handling, and suspension. Creta is just a fancy toy. Captur is miles ahead of the Creta and rivals.

One major minus point is its the horn. I love its design & acceleration. It's expensive LED lights It's wheelbase is highest in the segment. It's alloy wheels are very in...ఇంకా చదవండి

అన్ని క్యాప్చర్ సమీక్షలు చూడండి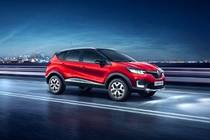 Rs. 9.49 లక్ష - 14.05 లక్ష*
ఈ కారు మోడల్ గడువు ముగిసింది
వినియోగదారులు కూడా వీక్షించారు
ట్రెండింగ్ రెనాల్ట్ కార్లు
జనాదరణ పొందిన car insurance companies