Arrival of the beast
Arrival of the beast
Indian car lovers were waiting for this machine since long , and the day has come when someone like me who loves muscle and luxury together can lay hands directly on this technological V8 supersport , The FORD MUSTANG . The features of this car are too good , especially the electronic line lock which is the best thing for a burnout . The 5.0 litre V8 engine produces an exceptional power of 435 BHP with a 515 Nm of torque . The Mustang feels larger on the road and as a result less wieldy than it does in the States. But don't go thinking it's a talentless heffalump. The new rear suspension has transformed the car's stability and ride control, and although we'd stop short of saying the Mustang has the long range ease of a Bentley, it sucks up distance effortlessly, plus steers pleasingly accurately and is easily rapid enough. It may be big on the outside, but the Mustang isn't a exactly packaging masterclass within. The boot's suitably commodious, but fitting normal-sized adult humans into the back seat isn't an easy undertaking. Especially not if you tick the box for the optional Recaro seats. You really should, though: they are absolutely magnificent bucket chairs. Build quality isn't going to rival the TT and nor is design (it contrasts starkly with the Audi's 'virtual cockpit' sophistication), but that's not the Mustang's schtick it's all about delivering a laidback feelgood factor, and it does that pretty darn well. The Mustang is a very different kind of sportscar. For starters it is loud. Okay, not as loud as a deafening AMG or SVR but it sounds properly angry. Ford has not only stuck to being inspired by classic Mustangs of old when it comes to design but also maintains a bit of raw force like classic cult cars. Compared to say, a Porsche Cayman or an Audi TT, the Mustang feels less clinical, yet it maintains a certain level of modernity in the way power gets delivered linearly and the way the six-speed automatic gearbox slick shifts the car. It isn't buzzy but exudes a certain kind of brawny feel to the whole driving experience think Vin Diesel? It can get the job done although it may not look very lean or feel light-footed. What about the cabin? Is it as good as the Germans ? Of course, not. Interiors also very American here. While the German's stress a bit more on luxury, Ford has just stuck to making sure it all feels sturdy and well built even if it may not exude opulence. But we like that bit. Are you guys machoists ? The car has to be comfortable at the end of the day Which the Mustang is. Most everyday car comforts are built in climate control, navigation, reversing camera, touchscreen multimedia screen. It even has ventilated seats at the front. Plus, there is a whole lot of gadgetry to play with. An all-new independent rear suspension is a major reason for the improved road dynamics. SPECS: Engine: 5.0- litre V8 Power: 435 BHP Torque: 515 Nm Gearbox: 6A 0-100 kph: 4.8 s Top speed: 248 kph Fuel efficiency: 7.4 kpl Airbags: 8 Tyres: 255/40 R 19 front, 275/40 R 19 rear Price: Rs 65 lakh ( ex-Delhi )
ఫోర్డ్ ముస్తాంగ్ వినియోగదారు సమీక్షలు
ఆధారంగా
68 వినియోగదారు సమీక్షలు
అన్ని (68)
Mileage (5)
Performance (16)
Looks (23)
Comfort (15)
Engine (26)
Interior (10)
Power (22)
More ...
This is an amazing car and a dream car as well. My first choice in the world is an amazing car which I bought.

Ford Mustang is the best car in India all people have loved this car I wish to buy the most wonderful Ford Mustang car.

Ford Mustang is my life, hence everything is alright & so my life has no problem in any feature, the mustang is full of joy and comfort, and most important this super...ఇంకా చదవండి

This car is very fantastic. It is to comfort and it looks good. It is too luxurious and its maintenance is not too costly. Its headlights are good. In this car ...ఇంకా చదవండి

Ford Mustang is the best car ever I love this car very much. My driving experience is very good. The mileage of this car is also a very good. I think this car is bes...ఇంకా చదవండి

This will be a great car. I really like this Mustang. It looks are crazy and all the car features are great.

Ford Mustang is my favourite and most stylish car. It is my dream car and I want my first and last drive with that car only.

అన్ని ముస్తాంగ్ సమీక్షలు చూడండి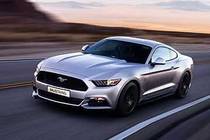 Rs.74.62 లక్ష*
ఈ కారు మోడల్ గడువు ముగిసింది
వినియోగదారులు కూడా వీక్షించారు
Write your Comment on ఫోర్డ్ ముస్తాంగ్
1 వ్యాఖ్య
1
t
teju
Aug 19, 2016 12:56:30 AM
Bangalore releasing dates?
Read More...
సమాధానం
Write a Reply
జనాదరణ పొందిన car insurance companies
×
We need your సిటీ to customize your experience