Cheaters
Cheaters
I purchased a Chevrolet Cruze on 22 Feb 2010 from DPM sales Deharadun, day I bought it I wanted LTZ model but dealer was very particular in giving LT model as according to him LTZ was not available but 4 LTZ was standing in front of us. The reason we didn't want to puchase LT was, there was a bump(manufacturing defect) at the back of the car, but finally, we bought that only because we didn't want to go empty handed. Well, after all these things we were happy that we bought a nice car as so much of trust is there towards GM, that you seems to be one of the best manufacturers in the world. But within few days that car started showing its true colors, some noise started coming from it, It started fusing smoke from the back., etc... on 18/08/2010 first servicing of that car was done at (Virdajoyti, Meerut), after that I thought now it will run well, but within 2 days car stopped on the road and was not starting up,I was going for a very important meeting that I couldn't attend then immediately I called to Dehradun office they took my car to the service center and on 21/08/2010 they replied back saying servicing was not done properly and some sensor was not working. I told them how it can be possible one day back it is coming from service they replied we don't know. Then I called to your Delhi Customer care department, there I got a very fantastic answer saying that - we don't know what happened and we can not do anything regarding that, it is a mechanical problem it can happen to any car it doesn't matter if it is coming from servicing, you do what ever you want I can not help it I am in a shock after listening to all this and in back of my mind I am planning to gift this car to Chevrolet team for making me fool.... You all know what you are going through and after all this If you behave like this I don't think so you people will exist in Indian market for a long period. I hope you have some brains regarding customer relationship and if not then pack your bags and make fool of some other country citizens. Abhyudya Garg, S/O Mr.Rajesh Kumar garg 9986663531,9412210020 Car Number UK07 AD 4337
Write your Comment on చేవ్రొలెట్ క్రూజ్
1
v
viral bakhai
Nov 21, 2012 4:58:30 PM
awsm car u ppl suck
సమాధానం
1
v
vijay
May 23, 2012 3:23:02 PM
I also have faced some problems in car, i told to the service station, but they are giving copy book answers. JK tyres are used in car,tyre broken in two pieces only after driving 7 kms from home( i dont know wether it was puncture or not) i am survived thr. major accident. very poor quality power stearing is used, rear seat is very inclined, geting down is very difficult. engine stopps in traffic, in slow speed
సమాధానం
1
S
s. roy
Aug 14, 2011 12:41:37 AM
GM sank in US due to their obsession with the American penchant for big (and fuel guzzling) cars completely irreverent about how the world is changing over to the environment friendly fuel efficient cars! The company just sank in the face of the Japanese competition and have never ever matched the excellent engineering standards of German & Czech (Skoda) cars. GM's last bid is to swindle the gullible Indian customers with glitter & gloss. Stay away from GM!
సమాధానం
చేవ్రొలెట్ క్రూజ్ వినియోగదారు సమీక్షలు
ఆధారంగా
82 వినియోగదారు సమీక్షలు
అన్ని (82)
Mileage (38)
Performance (14)
Looks (45)
Comfort (40)
Engine (29)
Interior (19)
Power (25)
More ...
I bought the Chevrolet Cruze 1 year back. I was a little bit confused with the budget but my parents/relatives insist me for this car and I am damn happy now with the per...ఇంకా చదవండి

Chevrolet's Cruze is technically updated, the best sedan in India under 17 lakh of range. The design given to this car especially from side is awesome, and it gives a lux...ఇంకా చదవండి

Chevrolet Cruze is the best car, though I have a diesel variant but power is massive. And there are no complaints with its look its just amazing I love this car very much...ఇంకా చదవండి

I own the Cruze 2012 model. Power is now up to a substantial 164bhp with the torque swelling to a meaty 38.7kgm. The primary focus of the engine tweak has been to improv...ఇంకా చదవండి

The Cruze is a seriously smooth car, from its slippery shape to the way its doors shut. In large part, Cruz's smoothness is derived from its impeccably compliant suspensi...ఇంకా చదవండి

I purchased Cruze in Oct 2011. What they project and what is actual has much difference. I am a smooth driver which drives maximum time in local. I found smooth run...ఇంకా చదవండి

Car with Class and Power, Cruze is looking stunning with its performance and look. Car is spacious and comfort is really good. Can say it is the best car in the class (M...ఇంకా చదవండి

I love Chevrolet car I always look into that in all site of second-hand cars. my first car is Aveo in the year of 2006, which was giving me not less than 18 km per ltr an...ఇంకా చదవండి

అన్ని క్రూజ్ సమీక్షలు చూడండి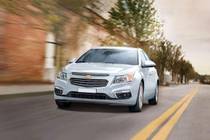 Rs. 13.95 లక్ష - 17.45 లక్ష*
ఈ కారు మోడల్ గడువు ముగిసింది
వినియోగదారులు కూడా వీక్షించారు
జనాదరణ పొందిన car insurance companies