టాటా నెక్సన్ 2017-2020వినియోగదారు సమీక్షలు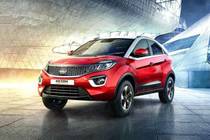 Rs. 6.95 లక్ష - 11.80 లక్ష*
ఈ కారు మోడల్ గడువు ముగిసింది
టాటా నెక్సన్ 2017-2020 వినియోగదారు సమీక్షలు
అన్ని (1795)
Mileage (286)
Performance (224)
Looks (349)
Comfort (357)
Engine (202)
Interior (215)
Power (213)
మరిన్ని...
తాజా
ఉపయోగం
VERIFIED
CRITICAL
Good experience and best performance in this range. A very comfortable driving experience at a long drive, especially hills.

Mileage and maintenance are up to the mark but the head-room is not proper on driver seat for a 6 feet guy.

The Tata Nexon is pretty much a decent game changer, its a brilliant car and has got top of the line features that other cars in its price segment do not. Safest car on the road and superb ground clearance with great interiors and sound system. Very efficient air conditioning and the list can go on and on for its positives....ఇంకా చదవండి

It's an amazing car as I didn't face issues till now.

The top model in diesel has amazing interiors & voice command is commendable. It looks great and deserves a 5-star rating.

Tata Nexon is overall good but the look is average. Front grill headlight is not so much attractive.

The overall performance of the car is as good as it's my first car. The 3 different driving modes are good and you will enjoy driving on hills and on the highways on Sport mode. I drove from Mumbai to Goa and it was overall a good experience, however, cooling is not up to the mark. The most disappointing experience with this car is mileag...ఇంకా చదవండి

Wonderful car with a premium experience. Safety is the main deal you buy from Tata. No safe no life! Buy Nexon live safe life.

Good vehicle from Tata and has got a nice suspension, interior, cooler air-condition mileage better than Hyundai Creta, Kia Seltos.

Tata Nexon has got awesome look and performance. Turbo engine is amazing. The comfort is very nice. I like the car a lot.

I own Tata Nexon XM petrol for the last 9 months and am an entirely satisfied owner. First of all, it is the safest car so no further discussion required. However, even after ignoring this factor no other car in this price range will be able to beat its overall performance. In brief, Pros are- Best riding comfort, most spacious, highest groun...ఇంకా చదవండి

Tata Nexon XZA+ is my first car and to be honest I am very satisfied with it. Pros: 1: Perfect compact SUV for a family of 5, exterior wise and space-wise. 2: provides the basic minimum safety features plus a robust body shell . 3: average ICE but superb sound. 4: Drive modes are a boon. Eco mode for early morning drives, city and sports...ఇంకా చదవండి

Tata Nexon is Worth for money. The vehicle is awesome. Good legroom space which is missing in most of the vehicles of this generation. Good boot space, ground clearance is amazing. Very steady vehicle for a long drive.ఇంకా చదవండి

Tata Nexon is the most fuel-efficient car with superb power performance. The best product introduced by Tata. The best part of this vehicle is its built quality no other vehicles can match this standard at the price.ఇంకా చదవండి

Tata Nexon has awesome look and performance. Turbo engine is amazing, the comfort is very nice. I liked it a lot.

Tata Nexon is an awesome car, using it from last one year here are my ratings out of 5 for the car- Safty 5 stars, Fuel economy 5 stars, Interiors 5 stars, Handling 4 stars, Cabin noise 5 stars, Engine Response 5stars.ఇంకా చదవండి

Tata Nexon is an excellent car I have done 7000+ km on this car it is an excellent car with beautiful pickup and great driving pleasure.

Tata Nexon was gifted to me by my partner. I don't like the body design on the first look of the car, but I experienced the best ride, comfort & perfect control.

Tata Nexon is a real SUV with good mileage and comfortable driving in any conditions. Music system, Interior and Exterior is just amazing.

Tata Nexon review out of 5 stars:- Look: 5 stars, Performance: 5 stars, Price: 5 stars, Safety: 5 stars, Space: 5 stars, Comfort: 5 stars. Indias perfect SUV.

Tata Nexon has an amazing build quality. Very Spacious both for the front passenger and the rear. Ample boot space, music system is excellent. You will be enjoying the detailed quality of music. Drive - the Vehicle holds to the ground when driving. The Air conditioner is good. Lastly sturdy vehicle. ఇంకా చదవండి

I own Tata Nexon XT. It's wonderful. Awesome. In a nutshell, power-packed vehicle. Love it. I've completed 8500 km till now and the car is giving an average of 12 now. One of the wonderful cars it is.ఇంకా చదవండి

Ran Tata Nexon for 12000 kms. Diesel XE MODEL. No engine noise, no service centre complaint, nothing spent. Took it to 178kms/hr. Very stable even at that speed.ఇంకా చదవండి

What do you want in 7 to 8 lacs bracket choice you want soothing music, and yet powerful engine, and a safe car with the fuel economy you can compromise a little bit. Here is Tata Nexon, which is actually changed the way of thinking on Tata products. I own Tata Nexon Petrol XM and I am satisfied with the car to date and this vehicle ...ఇంకా చదవండి

The most affordable and safe car that you can drive up with your family. It's the first made-in-India car to score the full 5 stars for safety in Global NCAP's crash tests. The Tata Nexon is also the only sub-4 meter SUV to offer the option of an automatic transmission with both its petrol and diesel engine options.ఇంకా చదవండి

I have purchased Tata Nexon XZA+ which is an excellent car in India with good facilities and safety. As I know many of us are confused between Tata Nexon and another car in the segments were not having good safety as compared to tata Nexon which tested by global NCAP and rated as 5 star rating in safety. So my opinion please go for Tata Nexon.ఇంకా చదవండి

This is the best car in the segment, in terms of safety and build quality is unique.

I can say the true beast, strong, and beautiful with amazing features in this price overall best car in the segment.

Well, the very first thing is, it has an amazing build quality. Very spacious both for the front passenger at the rear. Ample boot space. The music is excellent. You sure going to enjoy detail quality music. Drive - the Vehicle holds to the ground when driving. The air conditioner is good. Lastly its a sturdy vehicleఇంకా చదవండి

I'm using Tata Nexon since last December, my experience with the car was great. Tata Nexon offers a spacious sitting for 5 passengers.













Not Sure, Which car to buy?
Let us help you find the dream car

Are you Confused?
Ask anything & get answer లో {0}
జనాదరణ పొందిన car insurance companies