మహీంద్రా బోరోరో Nice ఎస్యూవి But Lacks Vital భద్రత లక్షణాలు
Mahindra Bolero Nice SUV But Lacks Vital Safety Features
I am a quite adventurous person and for very long I was searching for an SUV/UV that could provide a comfortable ride even in the tough terrains of the country. After going through research I bought the new Mahindra Bolero. The vehicle marks as one of the top-selling Mahindra cars in India and proves how drivability and handling can be made easy. Mahindra Bolero is the oldest member of the family, it retains the old no-fuss design when it was launched almost a decade back. The last update in 2012 made it look a little sportier; ditching the squared looks it had before. In 2016, Mahindra tweaked the old 2.5L engine and offered the powerful one. Mahindra Bolero still continues to dominate the SUV sales chart in the country, and launch of the automatic version is of course one of the criteria. Mahindra Bolero on the outside flaunts the new sleek grille and muscular bumper that highlights the front facia. The rear part gets more sophisticated along with curved clear lens taillight that adds to its charm. Inside, the car gets new dash panel and instrument cluster that offers multi-functional display while other features include AC unit with 4 AC vents, an audio system, and internally adjustable mirrors. The car comes powered by 1.5L mHawk D70 motor that can generate the output of 70bhp and peak torque of 195Nm. There are still some flaws in this vehicle like lack of essential safety features such as airbags and ABS and the interior built quality clearly shows cost-cutting. However, Bolero's low price range has been the USP why this car is a hot-seller from Mahindra and this was the only priority of mine at the time of purchase. So, in my opinion, Bolero still holds a special place in the hearts of thousands of Indians who want a spacious vehicle with powerful engine underneath and all that at an affordable price.
Write your Comment on మహీంద్రా బోరోరో 2011-2019
మహీంద్రా బోరోరో 2011-2019 వినియోగదారు సమీక్షలు
ఆధారంగా
117 వినియోగదారు సమీక్షలు
All (117)
Mileage (31)
Performance (17)
Looks (36)
Comfort (41)
Engine (31)
Interior (17)
Power (32)
More ...
తాజా
ఉపయోగం
VERIFIED
CRITICAL
The fuel efficiency is as good as any other vehicle in the SUV/MUV bracket. Moreover, this vehicle is shorter in length and thinner in width than almost all other competi...ఇంకా చదవండి

I am having the Mahindra bolero since from 2012. The car is very good at offroading. But the interior can be more luxurious, the third-row seating can be in bench seats t...ఇంకా చదవండి

Mahindra Bolero has a well-built quality and stronger than all other cars in the segment. It has excellent engine performance. Off-roading is also nice. Even though its a...ఇంకా చదవండి

Very good pickup, very good mileage, low maintenance, very good safety, body quality, and very strong Bolero. It fits for all types of roads.

For off-road, this car is the best. The AC is not good. It comes with 8 seating capacity but it provides space more than that.

I have Mahindra Bolero and It has been good family off-road vehicle for me, also helping me in a support role for agricultural ops, crossing 3-4 feet deep water of mighty...ఇంకా చదవండి

Superb SUV, its maintenance is also not so high and the driving is amazing. The pickup and suspension are also good.

In 2014 when I bought Mahindra Bolero. I felt very happy, that I have brought a very sporty car, but now I am feeling very uncomfortable and now I want to sell it. It giv...ఇంకా చదవండి

అన్ని బోరోరో 2011-2019 సమీక్షలు చూడండి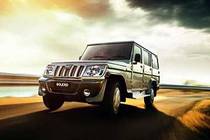 Rs. 4.94 లక్ష - 9.42 లక్ష*
ఈ కారు మోడల్ గడువు ముగిసింది
వినియోగదారులు కూడా వీక్షించారు
ట్రెండింగ్ మహీంద్రా కార్లు
జనాదరణ పొందిన car insurance companies