జాగ్వార్ ఎక్స్ Charming and Luxurious limousine పైన Sale Today
Jaguar XJ Charming and Luxurious Limousine on Sale Today
If you go out for searching for a stylish saloon with a sleek and lustrous body, I bet you will not find another piece of art beside Jaguar XJ. The attractive long coupe-like swooping structure is unmatched in its class and enough to turn heads on the roads. Things like ride comfort, high tech equipment, utter luxury and space are all part of the overall package. The exteriors of the car speak elegance with sleek headlights and daytime running LEDs and large chrome-finished grille. The rear part is the most striking with LED taillights and bumper chrome lining. Just like the exteriors, the interiors of this saloon are nothing else in the market. The flowing surfaces and curves are a complete contrast of relatively exaggeratedly proper German design. The fit and finish stand close to ridiculous benchmarks set by German rivals. The seats are large, plush and well cushioned. All the seats are electrically retractable with heating, cooling and massage functionality. The British automaker has given a huge update in the form of new InControl Touch Pro infotainment with a lot smoother and quicker user interface. The digital instrument cluster features a sharp and smoother looking screen with improved graphics. For a big limousine like this, a mighty engine is needed to propel it like a rocket. It gets the 3.0L V6 diesel engine that musters 296bhp and 700Nm of max torque. With proficient 8-speed automatic gearbox, the 0-100kmph is just a matter of less than 6.5 seconds. The Jaguar XJ is still behind the latest iteration of Mercedes Benz S-Class, but manages the second position with its incredible charm and updated luxury and comfort. It?s now a more complete package.
Write your Comment on జాగ్వార్ ఎక్స్
జాగ్వార్ ఎక్స్ వినియోగదారు సమీక్షలు
ఆధారంగా
10 వినియోగదారు సమీక్షలు
All (9)
Mileage (2)
Looks (3)
Comfort (4)
Engine (2)
Interior (1)
Power (2)
Price (1)
More ...
Jaguar XJ is by far the most stylish car on the block. It is quite expensive but once you get behind the steering wheels you will feel true power with 237.4bhp at 5500rpm...ఇంకా చదవండి

If you go out for searching for a stylish saloon with a sleek and lustrous body, I bet you will not find another piece of art beside Jaguar XJ. The attractive long coupe-...ఇంకా చదవండి

XJ model is very powerful, It is very luxurious and has comfortable seats. This segments car is totally worth and feel like a King.

This car has a different luxury statement as compared with other cars in the segment.

This car is the best I love this car and I want to buy it in a few years, This feature is the best of the top models.

అన్ని ఎక్స్ సమీక్షలు చూడండి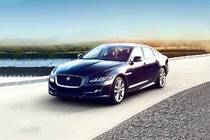 Rs. 99.01 Lakh - 1.11 కోటి*
ఈ కారు మోడల్ గడువు ముగిసింది
వినియోగదారులు కూడా వీక్షించారు
ట్రెండింగ్ జాగ్వార్ కార్లు
జనాదరణ పొందిన car insurance companies