ఆడి ఆర్8 : Well round and practical ఎస్యూవి
Audi R8 : Well round and practical SUV
AUDI IS ALL about precision. This is true of how its cars are designed, how they are engineered, how they are put together and how they drive. Think about it. There is no unnecessary heaviness, no useless fluff, everything is just so, spot on... very Audi. The R8, it's mid-engined supercar is a living, breathing embodiment of this. The earlier car (type 42) set the bar high with its technical sophistication, blustering pace and fine balance; it really was a stunning debut, especially considering it was Audi's first-ever supercar. So, it really should be no surprise that the R8 goes ballistic every time. The harder you go, the gripper and more confidence-inspiring it gets. And accelerate hard and you hear an orchestra of trumpets going mad behind you. This new car is cleaner, crisper, tighter, sharper and even more compact than the outgoing one. Even the detailing is just brilliant. It may not fastest, it may not be the most charismatic and it may not have the most alluring badge, and may be a bit uncomfortable around town, but Audi's new R8 is the supercar that delivers the best all-round experience. It has explosive performance, fantastic grip and absolutely loves attacking corners and looks stunning, both on outside and in.
Write your Comment on ఆడి ఆర్8
ఆడి ఆర్8 వినియోగదారు సమీక్షలు
ఆధారంగా
11 వినియోగదారు సమీక్షలు
All (11)
Performance (3)
Looks (3)
Comfort (1)
Engine (3)
Interior (1)
Power (1)
Price (1)
More ...
This is the car which I call as the rarest of the rarest car which scores meritoriously on both style and performance. A first glance at the car and the hypnotizing eleme...ఇంకా చదవండి

Audi R8 is a car which we can say is the king of cars. Like a king, it performs a superbly and delivers an amazing experience. If anyone drives it once, he/she won't be l...ఇంకా చదవండి

One of my favourite dream cars. I have experienced the red Audi R8. Its engine roar is like winning the World War. Its alloy wheel design is like a beauty of seven wonder...ఇంకా చదవండి

Awesome car to drive. A perfect combination of luxury and racing...The car is a next-gen beast machine...

AUDI IS ALL about precision. This is true of how its cars are designed, how they are engineered, how they are put together and how they drive. Think about it. There is no...ఇంకా చదవండి

The best feature with nice control. Comfortable zone with a clean drive. Power brake with a good sensor. Audi R8 V10.

అన్ని ఆర్8 సమీక్షలు చూడండి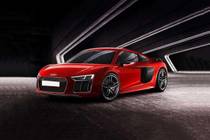 ఈ కారు మోడల్ గడువు ముగిసింది