i LOVE MY CHEVY సెయిల్
I LOVE MY CHEVY SAIL
Loved my Chevy Sail in first look named it as Maverick. Wonderful, spacious, perfect family car. Looks like younger brother of Muscular Chevy Cruze. I myself designed and customized added some external graphics and a Sporty spoiler and made it to look like a Sporty Sail. My first test drive with Sail was thrilling experience and still unforgettable. After thorough comparison and test drives with Honda Amaze, Maruti swift & D-zire, I finally decided to go for Chevy Sail with its Prize, Looks, Space, Features, Engine performance and more importantly Customer value and support. Final on road prize in Delhi when I purchased was 6,05,000/- for SAIL LS Model which was more featured and very less prize when compared with the above rivals. Thanks to 1.2 l SMARTECH Petrol engine with 83.6 PS(61.5 kW) of power and 108.5 Nm of torque makes this American Hulk more muscular. Mileage and performance wise it's simply awesome. Till the date I have driven for 35000 kms in 3 years mostly on highways. Already 4 services done and the mileage on highway with AC is 18 and in city 16. The best part in this car is though it is so powerful it's very calm inside the cabin. Maximum speed I pulled was 145 kms and amazed to see NO vibrations and shaking of steering. Purchasing from Chevrolet Auto Vikas was really good experience they offered me all the genuine GM motor accessories and services like Reverse parking sensors, Gear lock, Tuflon coating, Engine and under carriage coating, Floor carpet mats, mud flubs just for 6000 bucks. My first long ride was the next day of purchasing from N.Delhi to Gandhinagar on NH-8 around 950km in one stretch with family. Pleasure, comfort driving and Memorable trip it was. From Gandhinagar to Kadapa, Andhra Pradesh and back I had driven 5 times with family on (NH-4/AH-48) And in one trip we had been to Ooty via Mysore. Riding on hill stations, hair pin curves was really awesome. Power steering is one of the best part I loved in this car. Turning radius, smooth and effort less power steering make this car ride with more comfort. You will love to ride in hills. Again with 5 adults and with full luggage in the boot we went to Mt. Abu. Sail managed to pulled up all over the hill with AC effortlessly. When comes to boot space it has superior space. Though my sail is Non ABS it still has very descent braking system. When comes to servicing part Chevrolet, Gallops motors, Gandhinagar took intensive care of my buddy. Starting from first service and till date all the services and records were maintained by these people. Timely servicing reminders, Oil and parts changing were done with extreme care. Till date other than Gallops motors, Gandhinagar I never required any other service station for problems and repairs. Also I added 2 years extended warranty before completion of third year with 15% additional discount given as anniversary offer at Chevrolet, gallops motors. Finally, I strongly recommend Chevrolet Sail undoubtedly for someone looking for 1200 cc Sedan segment.
చేవ్రొలెట్ సెయిల్ వినియోగదారు సమీక్షలు
ఆధారంగా
56 వినియోగదారు సమీక్షలు
అన్ని (56)
Mileage (42)
Performance (11)
Looks (46)
Comfort (44)
Engine (19)
Interior (17)
Power (15)
More ...
తాజా
ఉపయోగం
VERIFIED
CRITICAL
It is a unique comfort luxurious family car, road-gripping is very good, well balanced on motion, air conditioning is very good and its a totally safe and secured car.

I'm owing Sail LT model and Happy with Performace, Pickup & milage.The only thing that i am facing issue in Suspension / Ground clearance, Lower body touches Speed br...ఇంకా చదవండి

I have purchased sail sedan in december 2013. I am feeling happy about two months But after two months average is very week about 12-14 kms per liter. I am going to servi...ఇంకా చదవండి

Chevrolet sail is the best car though i have a diesel varient but power is massive. And there are no complaints with its look its just amazing I love this car very much a...ఇంకా చదవండి

Loved my Chevy Sail in first look named it as Maverick. Wonderful, spacious, perfect family car. Looks like younger brother of Muscular Chevy Cruze. I myself designed and...ఇంకా చదవండి

I am an infrastructure & earth moving, works contractor. my job demands lot of travel and mostly to stone quarries and work sites ,where you seldom find good roads. I...ఇంకా చదవండి

I have driven almost all cars of world, ranging from mustang, dodge charger, BMW, etc. But I found Chevrolet sail has unmatched pickup. It makes you stick to the back of ...ఇంకా చదవండి

అన్ని సెయిల్ సమీక్షలు చూడండి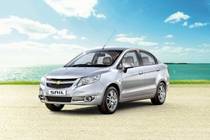 Rs.5.77 లక్ష - 8.44 లక్ష*
ఈ కారు మోడల్ గడువు ముగిసింది
వినియోగదారులు కూడా వీక్షించారు
Write your Comment on చేవ్రొలెట్ సెయిల్
1 వ్యాఖ్య
1
r
rohit ahlawat
Jan 24, 2021 1:39:15 PM
can i get the pics of ur modified car as i too want to modify it
Read More...
సమాధానం
Write a Reply
జనాదరణ పొందిన car insurance companies
×
We need your సిటీ to customize your experience