మహీంద్రా సెలోవినియోగదారు సమీక్షలు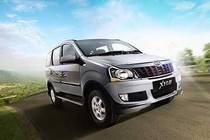 Rs.8.51 లక్ష - 12.00 లక్ష*
ఈ కారు మోడల్ గడువు ముగిసింది
మహీంద్రా సెలో వినియోగదారు సమీక్షలు
అన్ని (108)
Mileage (40)
Performance (18)
Looks (49)
Comfort (63)
Engine (40)
Interior (25)
Power (33)
మరిన్ని...
తాజా
ఉపయోగం
VERIFIED
CRITICAL
Mahindra Xylo is really very comfortable and cost-effective. It has given more space in the car.

My first and dream car Excellent car Great car..... The car is spacious and one of the best SUVs that Mahindra has ever launched...

It has a great interior and relaxing seats as well as the powerful engine which makes the drive awesome.

Good car Only tire bolts are not good They have a round cap on them which is difficult to open after a year Remaining engine is also good even after 2500000 km

Excellent performance. Value for money. Journey friendly with comfort.

The story of our Xylo is very amazing, sometimes very laughing. We were about to take our first car but did not know what to take. They were giving all advice, but they did not understand anything. Then we would like to have a Bolero book of Mahindra but when all the people in the house said that they should not take it. Then what was to be done wa...ఇంకా చదవండి

I've experienced that it is best family MUV that I have owned, it has a power full engine of 2.5 liter engine and having comfortable ride & Its mileage around 13 Kmpl on highway but its not too good interior. According to its price its good to buy but there is now further rivals in market. Pros - 1. Comfortable seating on long journey. 2. Very ...ఇంకా చదవండి

It has been a long time driving my Xylo and I thought to pen down my driving experience. It's been about 4 years and over 30,000 kms of driving and right, in the beginning, I want to say that I have enjoyed owning this utility vehicle so far. First I would like to start with the positives of this vehicle. Styling is a subjective matter so I won't c...ఇంకా చదవండి

I bought a Mahindr Xylo in 2017 and have driven 35000 kms in a year for a lots of family outing. Heads up to Xylo for its cabin space. Mileage is excellent at 14kmpl. The car also has a good on road stability at speeds around 100 - 120 kmph. Main issue is more noise, harshness and vibration in cabin compared to other cars. Also the wiper ...ఇంకా చదవండి

At present, we are six members in our family. The car we were driving was Maruti Ritz which was quite small and needed to upgrade seeing the limited space we get. It was a 4-5 seater vehicle and that makes all of us quite cramped inside. My father thought of buying the MUV Toyota Innova and along with that, we searched for many other cars as well. ...ఇంకా చదవండి

I had bought Mahindar Xylo in August 2015 . I am a very happy to travel in this car with my family. I have driven more than 48000 Km till date. I love to travel in this car it is good to drive in this car on any terrain. it is perfect family car even third row is good for 3 adult. the AC has vent on all row. I feel very comfortable to drive this ca...ఇంకా చదవండి

There are 6 people in our family. Actually, we had a small car named Maruti Ritz. It was a 4-5 seater car and it was not sufficient for all of us to sit inside the car comfortably. So, we decided to buy an MUV [8 seater] First, my father thought to buy Toyota Innova. It was too costly, so my father thought to buy an MUV, which is at low cost. We ha...ఇంకా చదవండి

I bought my Mahindra Xylo after comparing against Toyota Innova, Tata Safari and Mahindra Scorpio. Innova had the best engine. However, they were very expensive. Having used Camry and Sienna in the US, I felt cheated by Toyota's features and pricing. Tata Safari was good on looks but handling was very tough. So, knocked it off. Finally, it came to ...ఇంకా చదవండి

Good car with great power , wonderfull to drive on highway.great comfort and engine power is good , can be compared with innova as its vale for money . Best for lone journey.ఇంకా చదవండి

Mahindra Xylo was a big trump card from Mahindra's side as that time their Scorpio and Bolero was doing great in the market. Scorpio was only Champ by beating Safari and Bolero was continuing keeping name and fame of discontinued Marshal. Previously mahindra had made effort in 8 seater machine by make of Armada. Armada was an SUV and somehow MUV. B...ఇంకా చదవండి

Look and Style GOOD ... Comfort GOOD.... Pickup GOOD.... Mileage.. 10-11.... Best Features AC AND GC... Needs to improve PLASTIc & REAR CUP HOLDER.... Overall Experience GOOD....ఇంకా చదవండి

I purchased the Xylo because my near-invalid parents had been medically advised to go on outings and they could not travel in our small family car. Xylo seemed like a logical choice because it had a feature that was essential for my parents - reclining captain seats in the middle row - and sufficient seating for my parents' nurses and an attendant....ఇంకా చదవండి

I have purchased Xylo E4 in year 2009 and sold it in 2012 and in this 4 year it odo reads 1,90,000 km. And it was only sold because of poor service of Mahindra. It was love of every single people of family, because of its ergonomics, excess space , arrogant road presence and on drivers space its 110 bhp produces thrust . Its design provides great s...ఇంకా చదవండి

I had a good fortune to ride Mahindra Xylo on a long trip for a family occasion. Really very comfortable and nothing can be compared when it comes to price. Main specialties of this MUV are a very smooth ride on the road, less jerks, doesn't matter if it runs 130 or 150kmph. Very comfortable, no one can complain about this part at least. There's a ...ఇంకా చదవండి

Look and Style: Awesome, Fantabulous. I call mine a White Beauty or sometimes the White Bull. Comfort: Extremely comfortable. Best and better than Innova. Pickup: Very High Torque, beats Innova in all ways and terrains. Mileage: Better than Innova. I get 18 kmpl on Highways and in City it is around 13 to 14 kmpl. Best Features: Tall boy, feel like ...ఇంకా చదవండి

Unless you are buying this vehcile for 3 years, stay as far away as possible. Stranded on road about 3 times, had to tow vehicle paying 4K each time, each time the dealership had to change something costing me an average of 25000/-. The looks of this vehicle can be deceiving for anyone looking at the car, but it is all plastic as everyone already k...ఇంకా చదవండి

Look and Style are good Comfort excellent with commanding view of the road ahead. Pickup mhawk 2.2 is an excellent engine and offers better pickup and accleration Mileage: It offers decent 12 km/litre of fuel economy Best Features: There are lot many consisting of ground clearnce, turn radius, aircon on all four rows, follow me home headlamps, stur...ఇంకా చదవండి

Look and Style :- SPORTYLOOK AS COMPAIR TO INNOVA Comfort :- VERY COMFORT FOR LONG DRIVE Pickup :- VERY HIGH Mileage :- 16 KMPL Best Features :- SITTING ARRAGEMENT Needs to improve :- SHOULD INCREASE BACK SIDE HIGHT SO AS NOT TO CRASH ON HIGH SPEED BREAKER Overall Experience :- VERY NICE AS COMPAIRED TO PRIZE.ఇంకా చదవండి

Look and Style GOOD ... Comfort GOOD.... Pickup GOOD.... Mileage.. 10-11.... Best Features AC AND GC... Needs to improve PLASTIK & REAR CUP HOLDER.... Overall Experience GOOD....ఇంకా చదవండి

Well, the all new Mahindra Xylo H8, which was launched recently in Indian markets is an improved model and it is launched as a replacement for E series Xylo. Soon after its launch, it caught my attention as it was launched with some improvements in its features. I was looking for purchasing an affordable MPV and I have searched for a lot of models ...ఇంకా చదవండి

Look and Style GOOD Comfort GOOD Pickup GOOD Mileage OVERHALL 9 TO 12 Best Features GROUND CLG,AC,PIKUP Needs to improve PLASTIC BAHUT HI GHATIYA QUALITY KA H....PLZ CHANGE, SEATING ITNI AARAM DAYAK NAHI H JO EK FAMILY CAR ME HONI CHAHIYE. PLZ CHANGE TO SEAT Overall Experience GOOD ఇంకా చదవండి

Except backside it looks excellent, the back side of quanto is better than it. Comfort is better but I never judge it at back row. But I dont find any diff from scropio in highway. the interior is better than scropio special the dash board and AC system. Mileage, I dont know, any one help me. I dont find any satisfying ans for particular model D4, ...ఇంకా చదవండి

Look and Style: Good Comfort: Excellent Pickup: Very Good Mileage: During our trip from Mumbai to Kerala in Sept '12 (around +4000 kms) we got an average of 12 kms/litre. This month (Oct '12) we went to Bangalore from Mumbai and the average is almost the same. During low speed trips (@ 60-70 kms/hr) we are getting a higher aver...ఇంకా చదవండి

Look and Style - very good Comfort - super Pickup - avarage Mileage - 13 KMPL Best Features - leg space Needs to improve - diesel pump is in all time repair always break down, very poor service by tvs Overall Experience after 20 months the over all experience is lost of money , thi...ఇంకా చదవండి













Not Sure, Which car to buy?
Let us help you find the dream car

Are you Confused?
Ask anything & get answer లో {0}
ట్రెండింగ్ మహీంద్రా కార్లు
జనాదరణ పొందిన car insurance companies
*ఎక్స్-షోరూమ్ న్యూ ఢిల్లీ లో ధర
×
We need your సిటీ to customize your experience