ఉత్తమ in the segment.
Best in the segment.
I have recently completed 1 year with Tata Tigor XMA and let me tell you honestly, I have been loving it. Well, I had done lots and lots of research before buying a car. This is my first car, so I spent good 2-3 months, reading websites, blogs, watching vlogs, reviews, seeking personal suggestions, etc. I narrowed down my research to 4 cars, based on the pricing, the features, and value for money. Finally, I compared what they are providing and what they were charging for it. And I found that Tigor is providing the best in the least pricing. Well, you get a SedanCompact Sedan though, so you fulfill your dream. Its Automatic model, so your left leg and hand do not get tired of changing gears frequently. And it has so many features which its rivals are charging a lot for. And after buying it, whenever I have a friend in my car, they get amazed, like "wow, this has this feature too, great! My car has some over-expensive one that does not have this feature. It has a Harman infotainment system, so the music sounds so good in it. It's features like fader you can choose which speaker has more volume, so the music does not disturb you, while backseaters are listening to loud music and Vise-Versa. Also, Its driving performance has been great. All in all, it is a great car. And I recommend it to everyone. One more thing, Tata's service has been great. I am residing at Delhi NCR and twice I had a problem with my car one time Rats cut a wire, so the car won't start. Another time the fuel pump had some issues). Well I called customer care and I was sent service team at my location and I was helped. It is a huge relief to have someone help, when I am girl, I drove alone. Thank u Tata.
Write your Comment on టాటా టియాగో 2019-2020
టాటా టియాగో 2019-2020 వినియోగదారు సమీక్షలు
ఆధారంగా
673 వినియోగదారు సమీక్షలు
All (673)
Mileage (234)
Performance (106)
Looks (140)
Comfort (184)
Engine (102)
Interior (88)
Power (76)
More ...
తాజా
ఉపయోగం
VERIFIED
CRITICAL
Nice car, comfortable and stylish. Guys, u must go with Tata Tiago. Mileage is nice and special feature is sound system.

As per mid-segment, it's the best car with solid build and with safety features. Tata words are true.

I have a Tata Tiago XTA model. It has a very good engine and capacity. It is a very best budget vehicle.

Amazing featured and gorgeous looking car with low price. It gives better comfort, the best car to buy for middle-class families. The looks are amazing and also its desig...ఇంకా చదవండి

I felt good in safety, looks, performance, comfortably and interior design. Very smooth in driving in the city as well as on the highway.

I had purchased Tata Tiago XZ+ in April 2019, I'm happy with my decision. In the city, it's giving me a fuel economy of 15kmpl and on the highway, it's 22kmpl. The only i...ఇంకా చదవండి

The car is loaded with features, with the great build quality and superb fuel economy. The engine is a bit noisy because of 3 cylinders, but the performance of the car is...ఇంకా చదవండి

అన్ని టియాగో 2019-2020 సమీక్షలు చూడండి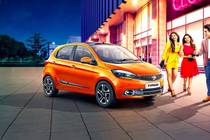 ఈ కారు మోడల్ గడువు ముగిసింది
వినియోగదారులు కూడా వీక్షించారు