టాటా Safari Storme Not As Contemporary As ఎక్స్యూవి500
Tata Safari Storme Not As Contemporary As XUV500
Safari is the name which has been bread and butter of Tata Motors for a long time. The Safari Storme is the latest and the best iteration till date with solid body-on-frame construction and strong road presence. I recently had an opportunity to drive my friend?s Safari Storme which he recently purchased. And though the car has excellent drivability and super refinement levels, I felt there were several misses which should have been there in an Rs. 15 lakh car. I was really surprised that the car misses on goodies like multi-information display, automatic climate control, touchscreen infotainment and navigation and even reverse parking camera. These features can be seen even in a car with half the price and it is really a disappointment. In my opinion, today XUV500 is more sophisticated and accomplished as compared to Safari Storme. Just for the sake of identity at least I cannot spend this amount of money on an SUV. And the above mentioned are some of the reasons why the sales of this car are dwindling with each passing day. However, for off-roading enthusiasts, these features do not matter and this car is one of the best when it comes to road presence, practicality and ride quality. But even it is for occasional drives, the car, in my opinion, should have ample creature comfort features to keep its position strong in the market. Tata has to do something serious for Safari Storme at least in terms of features as the last update was back in 2015. Visually too, the body style is the same old and steadily showing its age. So, in my opinion, this car has the potential to tap Mahindra XUV500, all it need is best in class comfort features and stylish design.
Write your Comment on టాటా సఫారి storme
1
T
tilak
Nov 5, 2019 11:36:32 AM
Safari Storme has all new body panels compared to the Safari Dicor. The design language is same to save its lineage. Also XUV 500 is front wheel drive whereas storme is rear wheel drive.
సమాధానం
టాటా సఫారి storme వినియోగదారు సమీక్షలు
ఆధారంగా
164 వినియోగదారు సమీక్షలు
All (164)
Mileage (45)
Performance (16)
Looks (58)
Comfort (79)
Engine (29)
Interior (27)
Power (28)
More ...
తాజా
ఉపయోగం
VERIFIED
CRITICAL
I loved my Safari, this is specious, big height, big view all side, best car for a long drive, VIP Car.

The mind-blowing car my dream car thank you, Tata, for this amazing SUV. I would purchase Safari Strome 4*4 as early as possible.

Safari is good and safe than others as Scorpio etc. I like this because it's VIP. I suggest If anyone wants to buy a VIP car then go for a Safari.

Tata Safari is very beautiful and very powerful for long-term profitable comfort that makes the journey beautiful.

TATA's proper Suv STROME.The VX 4×2 Strome offering 6-speed manual transmission with 2.2ltr 2200 CC varicor engine which producing 158 bhp and 400nm torque this engine is...ఇంకా చదవండి

Awesome cars and it has comfortable seats and look is very fabulous, but it is costly and maintenance is medium. I think it is a very good opportunity for the middle clas...ఇంకా చదవండి

అన్ని సఫారి storme సమీక్షలు చూడండి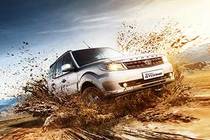 Rs. 10.99 లక్ష - 16.62 లక్ష*
ఈ కారు మోడల్ గడువు ముగిసింది
వినియోగదారులు కూడా వీక్షించారు
జనాదరణ పొందిన car insurance companies