A brilliant small car కోసం సిటీ driving
A brilliant small car for city driving
I bought my current car, Honda Brio SM-T in Aug 2013, it is currently at 25000 km. run overall. Company This is my first experience with Honda and I am all praise for the company. In the 3.4 years, I have had no issues with the company. The after sales and service of the company is fantastic. Engine and Drive quality - My car gives me a brilliant mileage of over 14 kmpl with A/C and over 15 kmpl without A/C. While driving, the Eco lamp available on the engine panel is highly useful. It tells you in real time about when you are driving optimally and when you aren't. So, it helps you in saving fuel and also provides a feel good factor when the eco lamp is lit. - It is very zippy and rev-happy with great pickup. For city drive, the biggest challenge are the turning radius and pickup. My Brio is able to handle any corner or U-turn with ease. The turning radius is surely one of the best in its class. - The clutch usage in the city is pretty good and easy. However, you do feel strain in long drives through bumper to bumper traffic. - Parking the vehicle is pretty easy and perfect for people living in crowded areas. This car can be parked easily without much hassle. - The steering wheel is really light as feather. It takes very less effort to turn the vehicle even at speed. Interiors I have mixed reviews regarding the interiors.Some features are amazing while some make it problematic for long trips and drives. - The car has a really nice leg space and has a pretty descent roof height. Even while keeping the front seats as much further behind as possible, there adequate room for an average sized person. The front seats are incredibly thin as compared to other cars in same category, but they still are pretty comfortable. This is a space saving technique which is executed pretty well by Honda. This is a surprisingly spacious car given the small footprint it has on the road. - The back seats are also comfortable but for long rides, the person sitting in middle would have some discomfort. So, it is basically a 4-people car. - The dashboard and paneling on the doors is sturdy and clean with enough room in them. There are 2 cup holders, a spacious dashboard cabinet and enough spaces to keep small things. - The stereo impresses with the sound quality and the integration into the dashboard and steering wheel. However, lack of bluetooth connectivity is surprising. - The boot is good-looking but lacks utility. The all glass door of the boot is really sturdy and you don't feel like handling it with kid-gloves. The boot is pretty deep but the opening of the boot is not big enough. It can take 2 small suitcases or a single medium case. There is no scope of it handling a big case. - The back windows don't open up fully which makes it difficult for short people to enjoy the weather outside from the back seat. Conclusion I would recommend this car for ladies and for city drive. It is zippy and light to maneuver. However, if you want to use this car regularly for family trips, the boot space and backseat usage doesn't make it an ideal candidate. For me it gets a solid 4 out of 5 stars.
హోండా బ్రియో వినియోగదారు సమీక్షలు
ఆధారంగా
75 వినియోగదారు సమీక్షలు
అన్ని (75)
Mileage (32)
Performance (11)
Looks (41)
Comfort (28)
Engine (29)
Interior (21)
Power (23)
More ...
తాజా
ఉపయోగం
VERIFIED
CRITICAL
The real compact hatchback with a adequate engine (1.2 petrol). The best for city drive as it's steering is very smooth which can actually be operated using a finger (don...ఇంకా చదవండి

Interior (Features, Space & Comfort) Space is a bit cramped. Comfort is good. but excellent considering other segment cars. Engine Performance, Fuel Economy and ...ఇంకా చదవండి

I bought my Honda Brio SMT model 4 years back and I am loving it, the drive is so smooth and comfortable and It requires minimum gear shift, engine has no ...ఇంకా చదవండి

Best Car in Small car segment. Very Very Good for a city ride and highway too. This car has all the features of mid-segment cars. Excellent pickup. Mileage is also as pro...ఇంకా చదవండి

We have bought this car just because of the company *HONDA *, and yes it proved. Even after 7 years, my brio is as smooth as a new one. Never go to any car garage. Not a ...ఇంకా చదవండి

Best look, style, space and practical car for a family of 4&5. Having no issue with CNG in this car, on the other hand, it gives me an average of 25km/kg which is qui...ఇంకా చదవండి

A perfect Family car and an excellent ride suited for Indian roads. The exterior look doesn't have any impact on the inner room space, it is too spacious in the inside. T...ఇంకా చదవండి

అన్ని బ్రియో సమీక్షలు చూడండి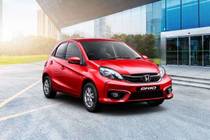 Rs.4.73 లక్ష - 6.82 లక్ష*
ఈ కారు మోడల్ గడువు ముగిసింది
వినియోగదారులు కూడా వీక్షించారు
Write your Comment on హోండా బ్రియో
జనాదరణ పొందిన car insurance companies
×
We need your సిటీ to customize your experience