టాటా ఎహ్ బిఎక్స్వినియోగదారు సమీక్షలు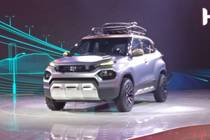 Rs. 5.0 లక్ష*
*estimated price
టాటా ఎహ్ బిఎక్స్ వినియోగదారు సమీక్షలు
All (35)
Mileage (4)
Performance (3)
Looks (18)
Comfort (4)
Engine (1)
Power (2)
Price (4)
మరిన్ని...
Have a sporty killer look. It will be good for off-roading. Road clearance is better than other cars. It will be good to have a small SUV in a very small budget.

I want to purchase a Tata vehicle but I'm expecting more power and a comfortable cabin, and I hope my Tata is growing up now. I'm expecting like HBX vehicle really awesome looking. ఇంకా చదవండి

Tata HBX is really value for money, very excited to know the TATA HBX type of sporty look car which is looking really amazing which is costing just starting price of 5 lakhs is really very affordable for any middle-class person either professional employee or businessmen. It really looks like this is made for us.  ఇంకా చదవండి

I think Tata HBX. It is so comfortable and stylish and also has upgraded cars. Overall, this performance is better.

This car is very good and its looks are amazing. It's safety features are better than other companies.

Please launch in HBX to CNG option CNG is very good. The Tata car's looking very good and it is very solid.

I'm eagerly waiting for lunch in this car. Looking excellent and it is the top car in the market.

Tata HBX is a good opportunity for Tata customers. I want also this car please give me final date of launching Tata HBX.

Mast hai Gaddi because east or west Tata is the best. I am proud of my desi company Tata great.

I am 23 and all set to buy this. I check the launch date every month. It's showing Jan 2021 now. When it comes for sell, I need 10 seconds to buy the first one of Bengal. The first car with my hard-earned money. ఇంకా చదవండి

This car is awesome in looks and this car impressed me by its look mileage. The price is also good for the middle classes.

I just love this bike and experience is excellent and definitely everyone will like this bike. Moreover, it's features are amazing.

Tata HBX is an amazing car and I love this car as it is a multi-feature car. I love this brand. The car design is very fantastic and aggressive and very best for offroading safely. ఇంకా చదవండి

Tata motors all car model super mileage, safety wow..... Tata Nexon super nice car Tata motors work intelligent people safety first.

I really waiting for the car to buy. This consist of all the feature, I want. Its has a nice design and also good milage, alloy wheel and it's look is just killing.

The design and the car are amazing from the Tata.

Tata always comes with a unique style and feature-wise cars. If you look deep into the style of business Tata nowadays delivering mind-blowing cars and a common man can choose in the first look. It may at an auto expo or from any type of social message. Whenever I search for any type of cars and Tata always comes top ఇంకా చదవండి

It is a really great car in the segment with a perfect interior. This is the best car from the segment as compared with the other car.

Tata motors very nice car safety is good, good mileage, performance India number one car of the company Tata motors Nexon model super performance travelling looking super good mileage compatible facing very good model is very good looking super. ఇంకా చదవండి

The looks and the design of the car are great with great fuel economy. Tata products are very nice in performance.

Tata is a trusted safety and safe company. It provides the car with a good budget. The safety feature are good with a nice wheel look.

The looks and the design of the car are amazing. The engine is also powerful and comfortable too.

This car looks are extremely fabulous and it stands very muscular and my entire emotions were thrilled. Just cant wait for its launch.

The HBX, the meaning full small SUV. Best in the segment.

The HBX could be the most handsome and well-built small car on the market. Prices will be the deciding factor though. The best car at a low-cost price.

Best car for Indian roads as well as it is economical.

Tata is now came into market to beat the other competitors with designs, safety and good prices. The 1st look of Tata HBX is looking very muscular. HBX is mini SUV but it's looking like a SUV itself and the design of this car will give a good amount of competition to the other competitors. Now, the main thing of this car is price. If the price is r...ఇంకా చదవండి

Looking awesome waiting for the launch of this product, fabulous looks muscular body tata become good

Awesome vehicle for those who don't want to spend a lot of money to fulfill his dream of an SUV. Such a great thing by Tata Motors













Not Sure, Which car to buy?
Let us help you find the dream car

Are you Confused?
Ask anything & get answer లో {0}
జనాదరణ పొందిన car insurance companies